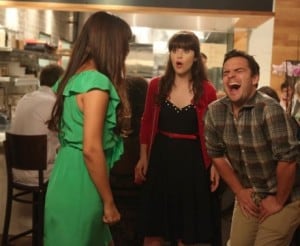 Alright, guys, I think we need to talk about Schmidt. One of my favorite parts of New Girl, throughout both its first and second seasons, was that Schmidt was the loveable annoying guy. He was the guy who owned a pair of driving moccasins and two different pea coats, but he also was also a great best friend to Nick and, on numerous occasions, illustrated how much he loved Cece. However, Schmidt so far in season three of New Girl? Oh man, he's a giant tool with none of the charm he used to possess, and it's really affecting how much I'm enjoying New Girl, especially in last night's episode, "Double Date."
So in the season three premiere of New Girl, Schmidt couldn't bring himself to hurt either Cece or Elizabeth, and therefore, instead of breaking up we either of them, he decided to secretly date them both at the same time. While this did reflect quite poorly on Schmidt, I really believed that it came from a decent place in his heart, that both his fear of being without anyone and his compassion for both women were the sole motivators behind his erratic decision.
However, last night, after both Cece and Elizabeth discovered what Schmidt had been doing, Schmidt's immaturity was on full display. While he did initially make a heartfelt plea to Cece about how hurting her was the last thing he ever wanted to do and how since he had become skinny he never knew how to handle relationships with women, Schmidt ultimately blamed Nick and Jess for causing both women to find out about his lie, and in order to get revenge, he now vows to do everything in his power to break Nick and Jess up. Personally, I don't see much comedic value in this scenario. All it does is make Schmidt unlikeable and annoying for the fact that he can't own up to his own mistakes, and the New Girl writers need to make a choice soon about what kind of character they want Schmidt to be, because it always seems like he's taking one step forward and two steps back anymore.
While much of the drama from last night's New Girl came from Schmidt's downfall, Nick, Jess, and Winston provided some much needed laughs. Nick, as always when he gets put into a situation he doesn't want to be in, was the comedic highlight of the episode after he found out about Schmidt dating both Cece and Elizabeth. Jake Johnson's facial expressions when he learns the truth from Schmidt were classic Nick Miller, and his "happy dance," while still wearing the helmet, was one of the funniest moments of the episode.
Jess also brought some levity to the episode with her "bedroom interactions" with Nick. Whether it was Zooey Deschanel's country voice ("Oh, I'm just a country lawyer, and I have a very itchy bra…it's very itchy in so many different places") or the fact that she knows a ton of quotes from Space Balls, Jess's charming quirks were hilarious last night, along with her episode ending conversation with Nick (more on that below).
Finally, we have Winston, who was stuck in another C-plot by himself again tonight. Even though I wish the New Girl writers could find better ways to incorporate Winston's stories into the main plot of each episode, he has, so far, been the funniest character during season three, and a lot of that has to do with New Girl's embracing of "crazy Winston." Not only was Winston trying to make date plans with Ferguson the Cat last night (who has become his new best friend), but he also did everything in his power to save the gang a table at Picca, the nicest restaurant in town, including eating glass by accident when he thought it was a mint, ordering eight different entrees and taking bites out of every single one, and yelling gibberish at people as they walked by.
The zany antics of Winston still feel completely in character for me and are making me laugh the hardest out of anything else on New Girl right now. However, I'm really hoping that the New Girl writers will soon find a way to fit all four of the loft members into a solid, hilarious plot, so that Winston will never have to sit at the "community table" alone again, and perhaps he, Nick, and Jess together can help knock some sense back into Schmidt.
Other thoughts:
– My other big gripe with Schmidt in this episode: how do you lie about your best friend cheating on his girlfriend, allow him to get "junk punched" (as Cece called it), and then not apologize afterwards? Not cool, Schmidty, not cool at all.
– Nick has 10,000 minutes on his cell phone. He bought them all in 1999 and is still using them. Nick Miller, never change.
– Winston's Toni Morrison impersonation while trying to make a reservation at the restaurant might have been one of the funniest moments ever on New Girl.
– The closing conversation of the episode between Nick and Jess, as they attempt to figure out what could break them up, has some of the best quotes that New Girl has ever produced. My personal favorites were Jess discussing her fear of pears "and pear-shaped people," and Nick's confession that "I'm not convinced I know how to read. I just memorized a lot of words."
What did everyone else think of last night's episode of New Girl? Are you enjoying season three so far?