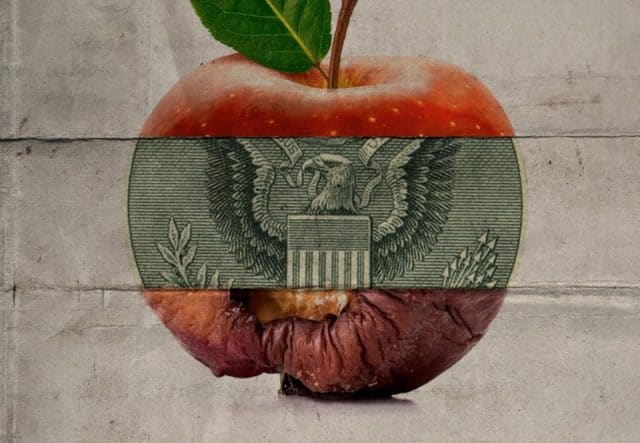 Two new original true documentaries are due to air on Netflix in January 2018 it has recently been announced. Dirty Money and Rotten both focus on the misconduct that occurs in the global food production industry and in some of the worlds biggest corporations. Each series will have at least six episodes that look at different scandals and highlight some of the most serious problems that these industries face.
Rotten
This series will air at the beginning of the month, with the first episode being premiered on 5 January. The series is produced by Zero Point Zero Productions who have won Emmys and Peabody Awards in the past. The series highlights just how much of an impact greed and corruption has on the food that we eat and explores just how much of a danger these practices are. Details of some of these episodes have been released to show fans what they can expect from the upcoming series.
The Peanut Problem – The number of people with severe nut allergies has risen dramatically in recent years. The show explores the science behind allergies and investigates whether there is more that restaurants can do to keep their customers safe.
Milk Money – People are prepared to pay more money for milk if they think it is organic but this may not always be the case. A look at how some 'organic' milk is actually quite dangerous for human consumption as it may be unpasteurized and contain pathogens which are dangerous to health.
Lawyers, Guns And Honey – Some Chinese honey is known to be laced with antibiotics that can be unsafe. Learn the story behind 'Honeygate' where millions of dollars worth of Chinese honey was illegally imported into the United States before being distributed worldwide.
Dirty Money
Later on in the month, on 26 January, Dirty Money will begin its run. The series is directed by Oscar-winner Alex Gibney and looks at some stories of scandal and corruption that have previously been untold. The series uses eye-witness testimonies from both the victims and perpetrators of these instances of corruption and contains never seen before footage. As with Rotten, fans can get a taster of what they can expect from the series with the following episode previews.
The Confidence Man – A look at the rise of the Trump business empire and the bumpy road it has been. How did Donald Trump make such a success of his business after many years of failure and how did this business eventually lead him to the White House?
Drug Short – This show highlights the influence that short sellers on Wall Street have on the prices that are paid for medicines. There are many companies out there that are making huge profits by charging extortionate prices for potentially life saving drugs.
Cartel Bank – The story behind how HSBC laundered hundreds of millions of dollars for drug cartels in Mexico. Is the bank too big to prosecute despite intense pressure from journalists, prosecutors and Senator Elizabeth Warren or will justice be done?
Catch both of these eagerly awaited shows exclusively on Netflix in January 2018.