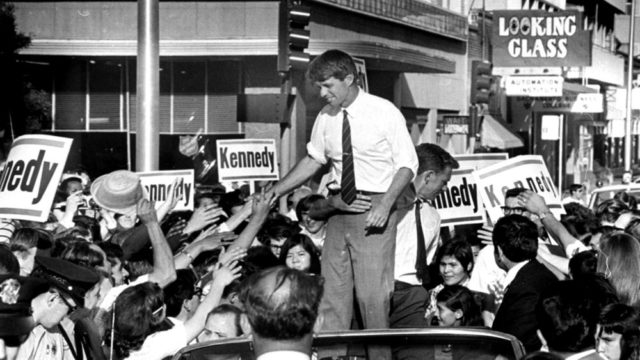 There was once a dream that Bobby Kennedy was going to be our next president, and in order to show that journey and the road that was taken Netflix has acquired the rights to the documentary Bobby Kennedy for President. The series, because that's what it needs to be to show just how much the man did in his career, will focus upon his political contributions to America and leave the personal matter largely aside. The creators of the show have opted not to speak to Ethel Kennedy or her nine children, as it seems that the Kennedy name has been dredged up far too often for shows and movies such as this.
What they will be doing however is documenting a lot of the material that went on in Kennedy's political life that has never been aired before. After going through roughly 240 hours of archival data the showrunners have devised a way to bring Kennedy's life into greater focus by showing those things that people didn't already know. A lot of folks know that he was assassinated. They know where, when, and by whom, but what they don't know is the impact that he had on politics and could have possibly had in the future had he survived. So many people take what politicians say as half-truths and outright lies these days that it's a wonder that anyone ever gets voted into office any longer. But Kennedy was the kind of man that wanted to show people that politics actually worked, and that it would work for the people instead of against them.
The series is going to run four hours in total and will focus largely on who Bobby Kennedy was before coming to politics and who he eventually turned out to be. There's a good chance that he could have been one of the greatest presidents in history had he lived, but that's something we won't ever know. The brother of the assassin that ended his life will be interviewed as well so as to give at least some insight as to what happened, even if we won't get an answer as to why. Kennedy made a few enemies on his way up, as many politicians do, but to many he was a shining beacon of hope that was badly needed in a time when people were looking for answers and were still lacking trust in politicians that said one thing and did another. He was to become someone that would speak the words and follow through on them supposedly, and this documentary is set to show just that.
Too many compromises get made when some people enter politics, but Kennedy was a man that didn't seem to fall into that trap. The difference he tended to bring to politics was that people trusted him, they believed in him, and when he spoke they believed what he had to say. That's a rarity today as it was back then.