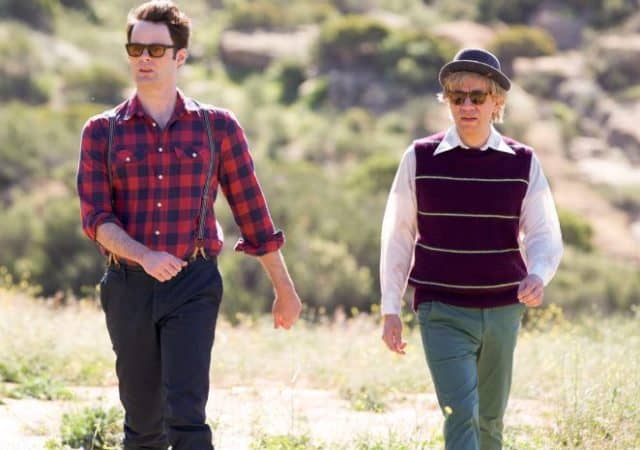 So the show starring Bill Hader, Barry, is believed to be the next big hit like Breaking Bad? So far from the trailer it looks like the uninspired story about a hitman, which would be a far cry from the kind of success story that was Breaking Bad, at least from the standpoint of the main character. Maybe it's alluding to the fact that the ex-marine is finding no joy in his life and decides to make a big change that will somehow derail his chances at the dream he wants to pursue as a member of the LA theater scene. Claiming that anything could be as good as Breaking Bad is kind of presumptuous at this point until it's decided that it does indeed have the kind of chutzpah that's needed to stick around even half as long.
So far what's known about Barry is that he's an ex-marine and a part-time hitman. I know, there's no such thing as an ex-marine but those are the words of those describing the show, not mine. Barry seems like a guy that just can't get anything together and is struggling to move through his own life from day to day. When he makes his way to LA to kill someone however he finds a culture that seems like it might be right for him and decides to stay and see if he can't become a part of it.
As a low-rent hitman you wouldn't think Barry would be that much in demand but then again this is Hollywood so literally anything can happen. Going from being a hitman to an actor though seems like a big switch, especially for a guy whose voice tends to go from normal to something you might hear in a cartoon fairly quickly. Keep in mind he was the voice of Fear in Inside Out not that long ago.
It could be a decent show but it looks like another darkly-lit piece that's going to focus on the existential shadows in the life of a person that seem to follow them no matter where they go. Plus, it's going to be using Bill Hader's character as a go-to for those that need someone taken out, meaning he'll be a hired gun and little else. This type of show often suffers from either too little development towards the main character or too much. The viewer is typically inundated with facts or images concerning the main character's life that they either don't care about or don't really need to know about since they're not entirely pertinent to the story.
They might be seen as developmentally important symbols but that's about it. Once they're presented they'll cease to have any further importance and will have been a giant waste of time. This show could end up being something great but it would all depend on how it's presented, at what time, and what it has to contend with during its time slot. If it has too much competition it could get overlooked, but then if it is placed in a time when nothing else is on it could be ignored.
https://www.youtube.com/watch?v=Qc5WOUt5NRE
Tell us what's wrong with this post? How could we improve it? :)
Let us improve this post!