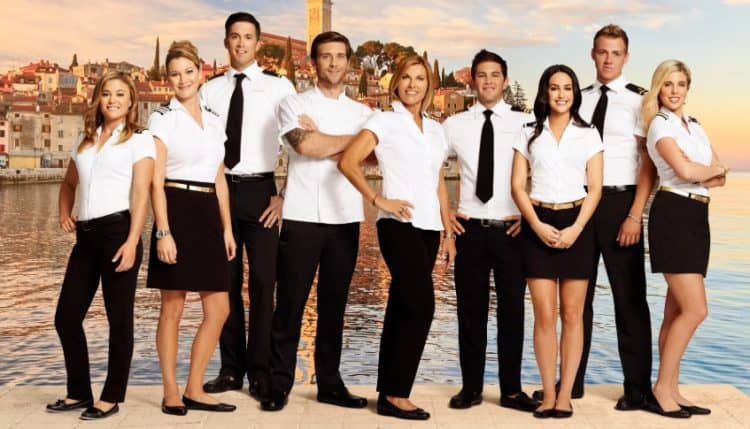 Back for another round of thrills and spills on the high seas is Below Deck Mediterranean– and it's already shaping up to be a stellar season. The spinoff from Bravo's Below Deck first broadcast on May 3, 2016. Since then, it's followed the crew and guests of the 150′ mega-yacht, Sirocco, as it charters new reality TV show territory around the Mediterranean. In season 1, we followed the yacht's progress around the islands of Greece. Season 2 saw the yacht hit Croatia, while season 3 took the action to Italy. Season 4 sees Captain Sandy Yawn and the rest of the Sirocco's crew head to France. The waters may be calm, but the onboard activities are anything but… find out more with our who's who guide to the cast of Below Deck Mediterranean Season 4.
Sandy Yawn – Captain
Back at the helm for another season is Captain Sandy Yawn. As one of the few women in the yachting industry to have achieved the rank of Captain, Sandy has all the grit, determination and stamina needed to steer the ship's crew as they navigate the balmy waters of the Mediterranean (and the slightly choppier ones of reality TV). Having faced- down cancer and overcome a potentially career (and life) ending motorcycle accident, Sandy is not someone you can dismiss lightly (as the crew knows only too well… woe betide anyone who's late to their shift, shoddily groomed, or who fails to deliver her "seven-star service"). She might be a tough cookie, but Sandy is also well respected by both her peers and her subordinates.
Hannah Ferrier – Chief Stewardess
Rejoining the crew for another season of fun and frolics is Chief Stewardess, Hannah Ferrier. The Australian native is now in her ninth year as Chief Stew… but she's hoping this year will be an easier year than last. With the anxieties of season 3 dead and buried, and with her focus now firmly on getting ahead in her career rather than in love, Hannah is looking forward to finding out what new guests (and adventures) await her in season 4.
Joao Franco – Bosun
Ship bosun Joao Fraco is back for another season, ready to show Captain Sandy he's learned from his past mistakes and is willing to prove himself the ship's best bosun yet. Zimbabwean Fraco came to the US in a desire to find a better life for himself away from the political and economic turmoil of his birth country. After finding work as a "Man Friday" to a boat captain, he swiftly rose up the ranks, culminating in his present position on the Sirocco. As his Bravo profile notes, while Fraco has the makings of a first-class shipmate, his turbulent personal life has sometimes been his downfall. Whether he truly has learned to put his private life to one side and keep his focus firmly on the job, only time will tell.
Colin Macy-O'Toole – Deckhand
Ready for a new season on the high seas is returning deckhand, 31-year-old Colin Macy-O'Toole. O'Toole started his love affair with ships when he was just 15 years old, after landing his first paying job as a deckhand. Away from the ship, New Yorker O'Toole has a passion for music, having studied it to degree level in his younger days. The self-confessed momma's boy may miss his family and Long Island home when he's aboard the Sirocco, but his adventurous spirit and love of the ocean keep him coming back for more…something which should keep female viewers happy, judging from some of the messages O'Toole receives on social media: "I get a lot of moms who direct message me on social media," he's shared. "They always say, 'I never do this, don't tell my daughter.'"
Mila Kolomeitseva – Chef (ep 1-4)
As the first female chef on board the Sirocco, Mila Kolomeitseva has a lot to prove, but with her background in cooking (she studied at Paris' renowned Le Cordon Bleu cooking school, and has worked extensively as a private chef), she's confident her Mediterranean style cuisine will have the ship's guests coming back for more. Her fiery temper may have her crewmates quaking in their boots occasionally, but it will certainly be keeping us entertained. Or would have, that is… in a shocking twist in episode 4, Mila was summarily dismissed after a series of mistakes left Captain Sandy with no choice but to give the Serbian chef her marching orders.
Aesha Scott – 2nd Stewardess
2nd stewardess Aesha Scott's childhood in a small town in New Zealand may not have given her much opportunity to taste life on the ocean, but it certainly gave her a love of adventure. Growing up around four brothers, Aesha was encouraged to be loud, fun, and full of attitude — something that's served her well since she joined the yachting industry. Her progression up the ranks has taken her from deckhand to 2nd stewardess, and she's determined to go all the way to the top. Not that that stops her enjoying herself in the meantime — whether she's exploring new destinations, enjoying a frosty beverage with her friends, or flirting up a storm with one or two of the crew's most eligible bachelors, you can rely on Aesha to bring the fun.
Anastasia Surmava – 3rd Stewardess (ep 1-5), chef (ep 6)
Georgian born Anastasia Surmava joined the crew of the Sirocco as 3rd stewardess, but in a shocking twist, was promoted to chef after Mila Kolomeitseva was served her marching orders after a slew of mistakes. The promotion, while unexpected, was a revolutionary experience for Surmava, and it's fair to say it's changed the direction of her career for good. Since the filming of Below Deck ended, Surmava has taken over as executive chef and creative director of Ajna, a Sri-Lanka based eco café and yoga studio, and is determined to take her new career as far as possible.
Travis Michalzik – Lead Deckhand
Lead deckhand Travis Michalzik has been pursing adventure and high times ever since leaving high school. After spending several years taking whatever job he could get his hands on, the Australian landed a gig as a deckhand on a yacht- 8 years later, and while the yacht may have changed, Michalzik's hard-working, hard-partying work ethic remains the same.
Jack Stirrup – Deckhand
The final crew member to complete this season's lineup is deckhand Jack Stirrup, a fun-loving, free-spirited Brit born and bred in Liverpool. After spending several years in the Merchant Navy as an engineer, Stirrup is ready to demonstrate just how far a strong work ethic, scrupulous standards, and a crazy mob of wild curls can take you.
Tell us what's wrong with this post? How could we improve it? :)
Let us improve this post!