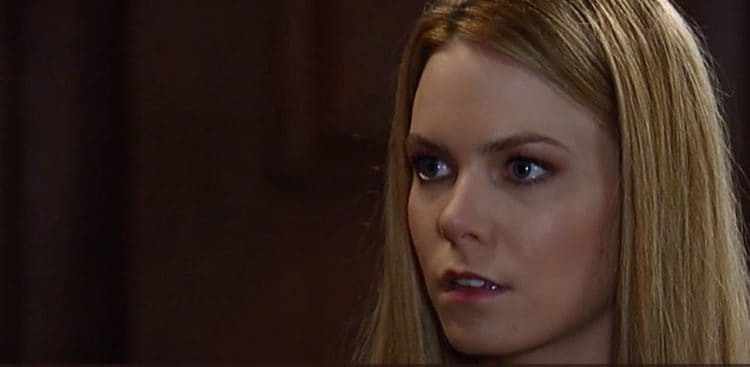 General Hospital fans cannot decide if Michael's obsession with staying close to Nelle yesterday was because he's worried that she might go into labor and things will not work out for the baby or because he suspects she's in a bad place and a bad way in terms of what she is up to. We might assume it's a little of both despite what he says and the way he's been acting towards his mother and father lately. He spent the day basically glued to her side, which is never want anyone wants to see as they are working on getting this couple to fall apart. But it's something they have to deal with right now.
Furthermore, we also saw that Anna decided to let down her guard. We think that this might be a good idea for her with Finn. They clearly have a very happy future together if she will continue to let him in the way she did yesterday, but we all know she's got commitment problems in terms of letting herself feel open and happy about her life. She's been in a bad place so many more times than she cares to admit, after all.
But what we really think might be interesting is watching as Nina is unnerved. She was not happy with the way things unfolded for her last week, and yesterday was no better for her. She's slightly panicked and unnerved, and we think that Peter can see every second of that. We think it's basically obvious to him that she's in a bad place in terms of how she feels, and that is the out he is seeing in terms of what is going on.
What's Happening at General Hospital
https://twitter.com/extratv/status/1006225793301671936?ref_src=twsrc%5Etfw
As always, we get to see that there are plenty of things going on in Port Charles to keep life interesting, but what about the very fun fact that GH's very own Matt Cohen is going to spend the day (and yesterday) helping the people over at Extra do their jobs? He's helping co-host, and his first day went well. He seems to have some good abilities outside of Port Charles, and that might just leave him with a few options.
What's Next on General Hospital
It's getting hot out there! ☀️#GH55 pic.twitter.com/gQEZw59jj3

— General Hospital (@GeneralHospital) June 11, 2018
So much has happened already this week, that we cannot decide what might happen as we continue to watch things unfold. Nelle is going to be very shocked, and we think it's when she realizes that everyone is finally on to her and that her plan is not going to unfold the way she thought it might. We think there was a small chance she thought things might just work out more for her than they have in the past few months, and she was wrong. She's not happy with things, but she might find a way to see if she can make them work for her as they continue to fall apart.
We will also see that Jason and Sam are going to get together. Before you get too excited about a JaSam reunion, however, we have to say they are only getting coffee, and we think it might have more to do with Anna and Peter and all that stuff than it does their own romantic situation. Though we think it would be very nice to see them in a good place again so that they might rekindle their love for one another — not that we think they have to rekindle much since it's obviously still there! We can only hope that this coffee date leads to another coffee date to another coffee date to a night out, to some private time together, to more than we thought they might share at this point. It's one small step, but it might be one small step that might take them in one big final direction. Can we get this to happen? We will find out. It's probably safe to say we all hope for it.
Stay tuned for more General Hospital and be sure to check out TVOvermind daily for the latest General Hospital spoilers, news, and updates.