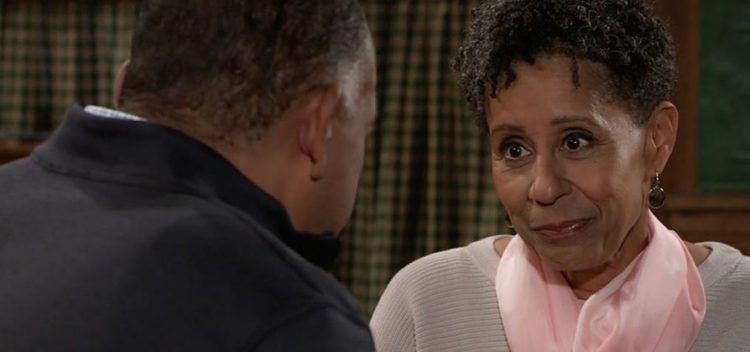 General Hospital fans know that Oscar is in a bad place. His life is awful right now, and there is nothing that we can do about that. He's had a long road, and things never seem to work for him. He cannot catch a break no matter what he does, and we feel so much for him. He's a young man with such a big heart, but his year has been awful. He's found out that Drew is his father, yet Drew doesn't know who he even is because he doesn't know his life as Drew. He's accepted Oscar as his own, and that's wonderful, but Drew isn't exactly stable at the moment. He's a great person, but he's not sure who he even is as a person, and that's a struggle for him. This is a situation he cannot control, and now Oscar is conflicted.
Laura is not sure what her timing has to do with anything, but we know that it's never good for her. She has a very long history of walking into things that are not good, of being places that aren't good for her, and of making poor choices in her timing, yet it's not her fault. She's struggling this week, but through no fault of her own. We only hope that this holiday will bring her some peace, but we do love that Nina said to hell with the peace and let her anger out on Ava like it was her job. She let the woman have it, and we loved every single thing about it. Not that it will affect Ava or her life, but we did love seeing her unleash her fury on this woman and let her have every ounce of Nina's anger directed at her with vengeance. It was great.
What's Happening on General Hospital
ATTN: #GH SUPER FANS: We're invading #Graceland for a one-of-a-kind celebration, Jan. 18th-20th, 2019! @VisitGraceland
CLICK FOR TICKETS: https://t.co/J0sIDrb4Vx #GH55 pic.twitter.com/VQ1u23gizr

— General Hospital (@GeneralHospital) November 16, 2018
It is the biggest shopping weekend of the year, so you might want to see if you can add this to your list of things that you want. See if you can get some airline tickets and your hotel under the tree this year so you can see your favorites.
What's Next on General Hospital
"So, where's your mommy?" 😳😳😳#GH55 pic.twitter.com/9zcJfmnlIo

— General Hospital (@GeneralHospital) November 19, 2018
It's Thanksgiving, and it's our pleasure to wish you a very Happy Thanksgiving and long weekend of happiness. It's our happiness to make sure that you know we are grateful and thankful to all of you for reading what we have to say each day, but we have to butter you up before we tell you that you're not getting anything new from Port Charles this week. Today is nothing short of awesome, but only if you're excited to go all the way back to the year 2000 to see Sonny and Carly have their very first Thanksgiving together. We feel good about that, though, so it is good news for all of us. It's a long weekend, so there is nothing new coming. Tomorrow there will be nothing from Port Charles at all. The network is going to handle sports coverage, so you won't get anything.
But the good news is that you will get to see some things work for the best. You will get to spend this day with your friends and family. Do not forget to eat as much as you want — we like to believe calories don't count on Thanksgiving — and try to be patient with those extended relatives you make you crazy. Remember, it's just one day and you have that to be thankful for as they drive you just a little bit nuts. And remember, it's all of us, and you are not alone. Shop safe, have fun, enjoy, and do some holiday decorating today. Now that Thanksgiving is over, we are all about moving on to Christmas.
Stay tuned for more General Hospital and be sure to check out TVOvermind daily for the latest General Hospital spoilers, news, and updates.