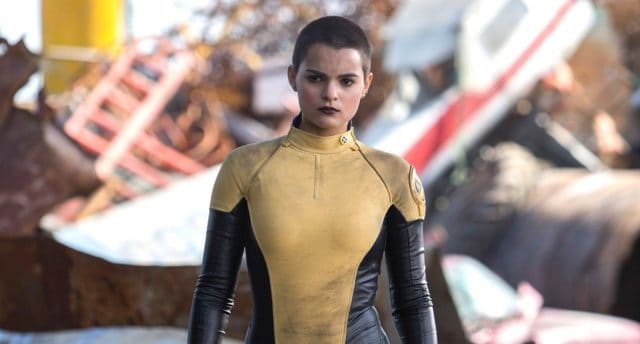 As Wade Wilson might say, "Negasonic Teenage-What the s***?! That's like the coolest name EVER!" At this point it seems like a lot of the main heroes and villains from the various X-Men spinoffs have been dragged out and put in front of the movie-going masses, so why not feature NTW as a solo movie? Even as a TV show she might prove to be an interesting subject, but it really seems like her true edge would be brought out by putting her on the big screen in an effort to figure out an origin story that would fit her. The only reason her real origin story might not fit is that like all other X-Men she's been subjected to different timelines during her stint in the comics.
In the comics she's more of a telepath and then technically a telekinetic, but in the movie her power set is really more like the mutant Cannonball, who hasn't been showed at this point unless you count obscure cameos that don't display his mutant abilities. Seeing how she's been treated in the Deadpool movie thus far, and it reprising her role in the sequel, it seems like the goth-girl would be best served by being played by Brianna Hildebrand and directed by Tim Miller once again. Miller managed to give Deadpool a lively but somehow edgy and gritty feel that created a level of intrigue and excitement that was fun to watch. Brianna on the other hand gave a voice to NTW that was just epic in the making since she's edgy, has a tight grip on the character, and is able to play a moody teenager better than pretty much anyone as of late. Plus the fact that she's a mutant and not well-liked by the general public comes through loud and clear.
Making such a movie about NTW would be fairly easy since her origin story is kind of tragic and plays very well into the way she's depicted now. There are enough twists and turns in the comics that would allow Miller and his screenwriters to explore and possibly pare down whatever details they needed in order to get a very good idea of what the story should entail and in which direction it should move. Just thinking about a movie like this gets a person to thinking about what other characters might possibly be allowed to intrude here and there in order to flesh it out just a little more. Keep in mind that inclusion of the rest of the MCU could very well be a possibility at this point, so it would behoove anyone that took this project on to start looking at the comics and deciding just what intersections within the comics would be desirable to display.
This could happen quite easily, but as it goes with every comic book movie it would need to be done just right and carry a level of detail that is unique to the character and unbending in how they're depicted in the comics.