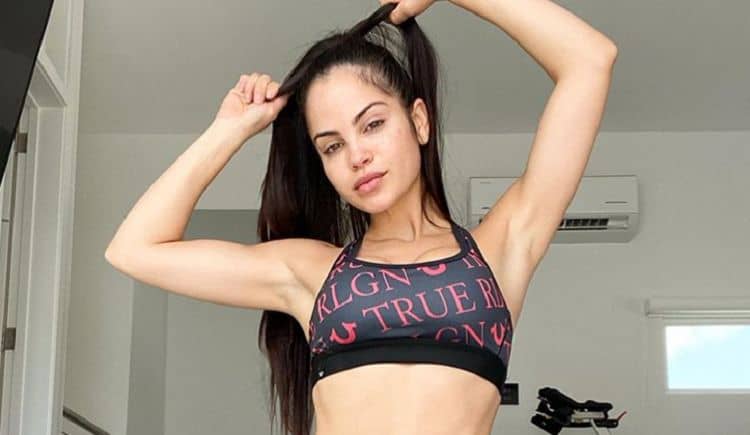 Fans of Ragaetton know this bombastic musical dynamo from the Dominican Republic. Natti Natasha has been tearing up the charts since she released her first hit single "Criminal," with Ozuna back in 2017. That video alone had over a billion hits on YouTube. With a voice like hers and those stunning eyes, it's not hard to see or hear the appeal. We decided to take a closer look at this rising star. Here are ten things you didn't know about Natti Natasha.
1. Eat Your Vegetables
Natti Natasha has been a vegetarian for the last four years. Though we're not sure whether it's for health reasons or a deep love of all things furry, we did notice that she still wears leather. It seems likely a choice based on dietary preferences, but we couldn't find any further information about it.
2. Not a Popularity Contest but…
Natti made a massive splash on Youtube as soon as she started uploading videos in 2012. It takes a lot to become a youtube sensation, and very few people make it happen, but those who do know how Natti feels, sort of. Even some of the most beloved YouTubers wish they had the sort of fame this singer has. Natti Natasha holds the distinction of being the most-watched female artist on YouTube. In 2018 she had 3.9 billion views.
3. Idolize Me
Many young girls dream of growing up to become stars. Singing to your favorite albums, belting it out in the way only the fearlessness of youth can is a time-honored tradition. Most kids try it out at some point, but few pursue singing beyond the bedroom walls. Fewer still make a career out of it, and almost none end up topping charts and working with the biggest stars in their generation and beyond. Natti is one of the few, and she dreams of being the voice on the album other girls are singing to in their dreams.
4. It Wasn't Always Easy
Even when you're born with talent looks and personality to spare, it doesn't mean the world comes to you on a silver platter. Early on, Natti struggled hard to find her voice. She told Rolling Stone that she was afraid of being the only female in a recording studio and afraid to try new things. Becoming her fearless current incarnation was a process of self-discovery for the artist. Fortunately, she worked it out and ended up the chart-topping sensation she is today because she took her time.
5. Who Run The World
The one thing Natti never let stop her were the haters. More than a few times on the way up, she was told that a woman would never make it to the top. She knew her voice was good enough, and the only thing that would keep her down was fear. So instead of listening to the (mostly male) people who wanted to keep her down, she left them in the dust and kept moving forward. She even has a song that passes the Bechdel Test (Sin Pijama). Bechdel is the standard which is often cited as the minimum requirement for a pro-female movie. In other words, it has two women who speak to each other, and the topic has nothing to do with men. That's a surprisingly hard standard to meet, though the times are changing.
6. Land of Make Believe
Natti once told an interviewer that her first fans were her imaginary friends. With an imagination as big as her talent, it's no surprise that she managed to make it so far. Even her dreams were cheering her on from the time she was small. She used those early fantasies to overcome her stage fright and perform.
7. More to Give
It's not easy when people stereotype you and put you down, but Natti had a great role model of her own. Like Ivy Queen before her Natti is putting a female narrative into genres traditionally considered male. She likes to say that Latinas are spicy, but there's so much more than that. Breaking through barriers and changing the dialogue about what a woman, a Latina, or even a singer can and 'should be' is all in a days work for this amazing woman.
8. Ignore the Rumors
Lately, a whole lot has been made of a small Twitter exchange between Natasha and Rob Kardashian. The exchange was brief enough, and the pair flirted, implying they might meet up. It spawned a whole plethora of rumors that the two might be dating. According to E Online, that's not the case. Rob is busy being a devoted father to his two-year-old daughter Dream. Rob hasn't been in a relationship since he started dating the mother of his child, BlacChyna back in 2016. Likewise, Natti hasn't really been seen dating anyone since she was in a relationship with fellow singer Don Omar.
9. Training Talent
Being a natural is one thing, but most singers have to work for their fame. Natti is no different. She was born Natalia Alexandra Gutiérrez Batista in Santiago de Caballeros and attended the School of Fine Arts there for singing. She's mentioned that as one of the best times in her life and clearly it worked out for her. Whatever they teach students there, we sure hope they keep it up. If every fine art school had brilliant, motivated young talents like Natti to work with the world would be full of beautiful music.
10. Billboards Top Female Latin Singers 2018
Natti Natasha was number two on the Billboards Top Female Latin Artists Poll. Only Shakira came in higher. That's amazing considering how much people love Shakira. Overall she came in number fifteen and Shakira came in ninth out of all the artists on the charts (both genders).
Final Thoughts
It seems like Natti has a lot of fun being so wholly herself. She certainly worked hard enough to get there. From years of self-reflection and growth to busting stereotypes and setting the bar for herself this is one woman who deserves every bit of her fame. Natti is still on the way up and not even close to slowing down. We can't wait to see where her success takes her next.