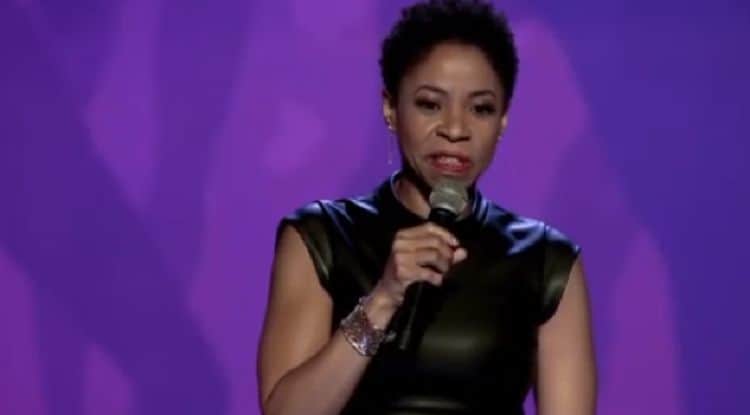 With all of the things going on in society right now, it can be hard to find humor in anything. However, comedian, Marina Franklin, has managed to make countless people laugh. Marina, who is also an actress, has been working in the industry for nearly 20 years. She has performed all around the world and worked with some of the biggest names in the business including Amy Schumer and Dave Chappelle. She was a part of the Laughter in Lockdown project that featured a live streamed comedy show. Although she may not be a household name, she is definitely deserving of that honor. Even though she's already accomplished a lot, Marina definitely doesn't appear to be stopping any time soon. Keep reading for 10 things you didn't know about Marina Franklin.
1. She's Taken Up Gaming
Marina Franklin may not be a certified gamer just yet, but she's working on it. Like most people, she has been forced to spend much more time in the house than usual, and one of the ways she's been spending that time is by playing Fornite. Her friend and fellow comedian, Yamaneika Saunders, has been showing her the ropes and it looks like Marina still has some work to do.
2. She's A Native Of Chicago
Marina was born and raised in the Chicago area and is proud of her Windy City roots. She even attended college in the area at the University of Illinois at Champaign-Urbana. She eventually decided to relocate to New York City to have more career opportunities. She says, "Most comics don't really do well in their hometown. It's a weird thing where you go home and you're like, 'You don't know me? I'm from here!' It was kind of nice to realize how supportive everyone was. Everyone really wanted to see the hour."
3. Her First Comedy Show Was A Disaster
Like anything else in life, comedy requires practice. No matter how funny you think you are, pulling off a successful stand-up show is something that you'll have to work out. Marina learned this the hard way after her first show didn't go as well as planned. In Marina's defense though, having to come on stage after Tracy Morgan for your very first gig is the true definition of a tough act to follow.
4. She Advises Aspiring Comedians To Listen
As someone who has found lots of success in the industry, Marina knows a thing or two about what it takes to get to the top. She encourages young people who are hoping to have careers in comedy to learn from those around them. She believes that just by listening, young comics can learn some very valuable lessons.
5. She Got Into Comedy On The Suggestion Of A Friend
Becoming a comedian wasn't always at the top of Marina's to-do list. Although she knew she wanted to entertain people, she had initially gravitated more towards acting. However, her instincts eventually starting leading her in the direction of comedy, and a close friend finally suggested that she look into stand-up.
6. She Went On Tour With Sarah Silverman
When I said that Marina Franklin has worked with some of the biggest names in the industry, I wasn't playing. In addition to her work with Dave Chappelle, Amy Schumer, and Jay Leno, Marina has also gone on tour with Sarah Silverman. When discussing the experience, Marina said, "The tour with Sarah Silverman was fun because I enjoyed her audience. They're true fans of comedy. It's a real friendship tour so we easily had a good time, which included recording the requisite super-fun social media videos, and making a late-night ice cream run."
7. She Loves Comedy And Acting Equally
A lot of times people in the entertainment industry are encouraged to pick one lane and stay in it. However, Marina has chosen to pursue acting and comedy and she has a very interesting relationship with each of them. She says, "Standup is like my husband and acting is like the affair. I love both equally, but I feel like I'm cheating on my husband when I land acting work. Standup will have to get over it."
8. She Has A Podcast
At heart, what Marina really loves is creating content. She recently started producing a podcast called FriendsLikeUs. The podcast is focused on providing a platform for women of color in the comedy world. Each week, Marina hosts a different guest and covers a different topic.
9. She Uses Her Platform To Speak Out Against Injustice
If there's one thing Marina is going to do (other than make you laugh), it's speak out against injustice. Marina is a strong supporter of the Black Lives Matter movement and other social justice initiatives. She frequently uses her social media platform to raise awareness to various issues.
10. She Has An MFA
Marina started acting while she was still living in Chicago, and once you catch the acting bug it's hard to shake it. After completing her undergraduate studies, she decided that she wanted to continue to pursue acting. She then attended Syracuse University where studied acting and earned an MFA.
Tell us what's wrong with this post? How could we improve it? :)
Let us improve this post!