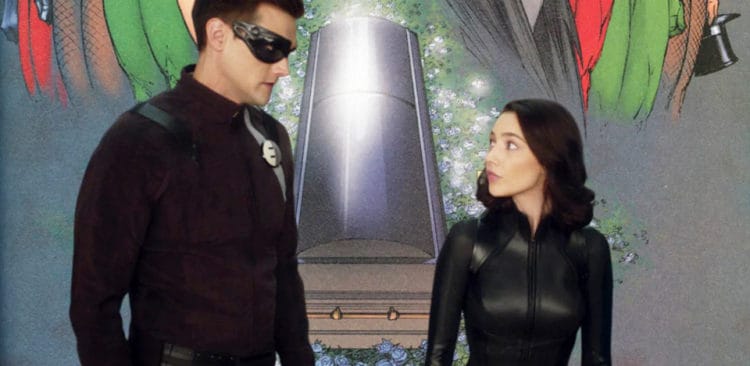 Natalie Dreyfuss has literally been around the entertainment industry for her entire life. Her father, Richard Dreyfuss, is an Academy Award-winning actor whose career has spanned the course of the last seven decades. Although her father is well-connected, Natalie has always wanted to carve out her own path. So far, that's exactly what she's done. Over the course of her career, she has made dozens of on-screen appearances. Most people will recognize her most from her role in shows like The Secret Life of an American Teenager, The Originals, and The Flash. Continue reading to learn 10 things you didn't know about Natalie Dreyfuss.
1. She Was A Professional Ballerina
Despite having a famous actor for a father and coming from a family full of other talented actors, Natalie didn't always plan on becoming an actress herself. Instead, she was focused on dance for much of her life. She told LA Lady Interviews, "I discovered my love of classical ballet as a little girl and decided to become a professional ballerina. This seemed like an innocent enough dream, but I took it to the extreme. I took ballet class every single day. I put dance before everything else including school." Sadly, she had to give up her dance career due to an injury.
2. She's Good Friends With Hartley Sawyer
Anyone who has ever gotten the chance to work with a good friend knows what a great experience it can be. During her time on The Flash, Natalie got the chance to work with her good friend Hartley Sawyer. The two were friends for over a decade before coming together for the show.
3. She Was A Preschool Teacher
Ballet isn't the only stop Natalie made on her path to becoming a professional actress. At one point in time she was also a preschool teacher. While working as a teacher, however, she realized how much she missed performing and she decided that she wanted to give acting a try.
4. She Was In A Music Video
Film and TV roles have been the primary focus of Natalie's career, but that isn't all she's done. In 2009, she got the chance to stick her foot into the music industry. She appeared in the music video for "Kristy, Are You Doing Okay?" by The Offspring. The video currently has more than 2.9 million views on YouTube.
5. She Likes To Travel
Natalie was born and raised in Los Angeles but her worldview extends far beyond the borders of southern California. Natalie loves traveling and she has gotten the chance to visit places all over the United States and other parts of the world. No matter where she goes, she loves to enjoy the natural scenery.
6. She's In A Relationship
In addition to finding something to love, Natalie has also found someone to love. Natalie is in a relationship with a man named James Woods. James doesn't appear to have any involvement in the entertainment industry. It's unclear exactly how long they have been together.
7. She Was In True Blood
At this point in her career, Natalie's resume includes 40 acting credits. Among the list are some pretty well-known shows including the hit HBO series True Blood. Natalie had a minor role in the show for two episodes in 2013. Natalie has also been in shows like Will and Grace and House.
8. She Was Inspired By Some Very Talented Women
Many people would probably assume that Natalie's father has been the biggest influence in her career, but that isn't the case. During an interview with Pop Culturalist Natalie said, " I've always been a fan of leading women like Lucille Ball and comedians who were able to do live-audience work. I started my career on a live-audience show for Lifetime called Rita Rocks with Tisha Campbell-Martin and Nicole Sullivan. I learned so much from watching those two: the way they handled their professional lives, balancing their personal lives, and how smart, funny, and great to work with they were."
9. She Supports Social Justice
Natalie is the type of person who isn't afraid to speak her mind and she has used her platform to shed light on the causes that are close to her heart. She has shown her support for things like women's rights and the fight to end racism and she often shares resources on those topics with her followers on social media.
10. She Loves Musicals
It doesn't appear that Natalie has any theater experience, but that doesn't mean that she isn't a fan of theater. While talking to Pop Culturalist she shared that she enjoys going to musicals. Some of her favorites include Les Miserables and Spring Awakening.