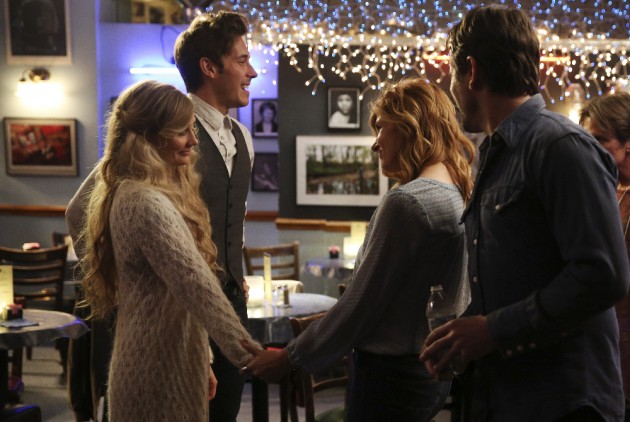 You can deny all you want, but on this week's Nashville, everyone must confront the truth. However, just because you recognize the truth, doesn't mean you are willing to accept it.
Remember that Hail Mary pass that was supposed to help Teddy out of being arrested by the FBI? It is genuine, but all sins come with a price. In order to get himself out of this situation, Teddy has to get to a much larger political criminal, the senator. Under the guise of wanting to pick up the mantle of Lamar's shady dealings, Teddy agrees to wear a wire to a meeting with the senator. This situation really is too good to be true, because the shady dealings Teddy is trying to worm his way into weren't handled by Lamar, but by Tandy.
Layla is also dealing with some difficult career fallout, but she has no idea that she is not to blame. After being dumped from Jade's tour for violating Jade's "No tweets" rule from the party last week, Layla doesn't know what to do. Under the false impression that she drunkenly tweeted from Jade's party herself, Layla continues to trust Jeff's poor judgment, landing her in a Twitter War with Jade (seriously, why is this a thing?). Layla continues to show poor judgment by signing a legally binding contract with Jeff that basically says he will profit from her as an artist no matter how their professional relationship turns out, never mind their personal one.
Elsewhere, Will receives a not entirely welcome surprise visit from his father, which brings up a lot of difficult history between father and son. Will's boyfriend Kevin is the only one who knows that Bill Lexington threw his son out on the street at the age of 17 when he learned his son was gay. Given this, Kevin can't understand why Will would let his father back into his life. Any child who has ever been rejected by a parent can't deny the part of themselves that so badly wishes their parent would tell them they love them. This is exactly why Will is not able to turn his dad away, but Kevin still fears Bill will ultimately reject his son. That may end up happening sooner than expected when Luke discovers not only that Will is gay, but that his new artist is about to be publicly outed in the tabloids.
Gunnar and Scarlett are officially a legitimate singing duo with official offers, including a very generous one from Highway 65. Scarlett, still angry and confused with Gunnar over Kylie, stalls negotiations. Gunnar, who has been trying to help Kylie reconnect with Micah in the wake of her confession about her rape, can't deal with Scarlett's attitude over it. By the same token, Gunnar can't stand Scarlett's boyfriend and is not subtle about vocalizing it. Despite this, during a last minute performance at the Bluebird, Scarlett and Gunnar's anger towards each other doesn't get in the way of their music. Avery sums it up best: "They're a train wreck offstage, but damn if they don't make good music when it counts". So Gunnar and Scarlett agree to focus on the music and leave their personal lives at home (yeah, like we buy that will last).
News of Deacon's cancer has finally spread outside of his close circle, overwhelming both him and Rayna. To make matters worse, Beverly sends Rayna's bribe for her liver back to Rayna, cruelly torn up in pieces. At this point Rayna can no longer hold in all of her emotions, finally letting all of the pain and fear out. Deacon comforts Rayna, and admits his own anguish about his cancer becoming public knowledge. Deacon fears everyone treating him as though he is already gone, but we all know that with Rayna by his side, those two can conquer anything. They go to the Bluebird and give a beautiful performance which reminds everyone about the frailty, but also the beauty, of love. These two may just get their happily ever after though when Beverly shows up after their performance ready to donate part of her liver to Deacon. Deacon is overjoyed, but the look on Beverly's face as she looks at Rayna suggests this may not turn into the friendly brother/sister reunion Deacon wanted.
The person in the worst shape right now is surprisingly not Deacon. Juliette is on a high getting her career back on track, but she is less and less tolerant of anything which is not related to that. The truly worrisome subject of her intolerance is her own daughter. Juliette agrees to stay home with the baby and work on her album while Avery goes out, but when Emily arrives Cadence is screaming, and Juliette has her headphones on. A panicked Emily calls Avery, who is no longer able to deny that there is something very wrong with his wife. So Juliette's loved ones stage an intervention with her doctor for what everyone knows is postpartum depression. Needless to say Juliette deflects and storms out, and by the looks of previews for next week's season finale, things are only going to get worse for her.
Stay tuned for next week's season finale.
[Photo credit:Mark Levine]