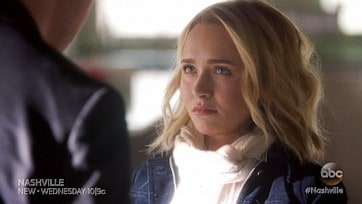 The newest episode of Nashville proved that one day at a time isn't just a cliche for sobriety, it applies to very triumph and bump in the road which comes your way. No one knows this better than Juliette Barnes, who finally returned home after completing treatment for addiction and Postpartum Depression. Was Juliette able to prove to herself and others that she is ready to rejoin the world? First let's see how all the other Nashville residents are doing.
Rayna is worried after finding Vita's car ransacked last week. Rayna spends the majority of the episode chasing down the detective in charge of Vita's case to no avail. He shows her the stack of missing persons reports he has on his desk in addition to Vita's, which puts Rayna in a very depressed state. A new fire has been lit under Rayna, and who knows what path this new determination to help will take her down.
Deacon is worried about Frankie given his peculiar behavior as of late. Frankie has been feeling overlooked amidst Deacon's success and so has gone off the wagon. That becomes apparent when he gets drunk and makes a fool of himself onstage at the Beverly in front of a packed crowd. Deacon knows that in all of Frankie's drunken insults there is a note of truth that Deacon's light has been leaving Frankie in the cold. The two have an honest conversation where Frankie takes full responsibility for his actions, and Deacon takes responsibility for being Frankie's friend, one day at a time.
Luke is shocked when Colt tells him that he is joining the Army. He and Colt butt heads for awhile before they really listen to each other. Colt recognizes that his father is genuinely terrified for him, and Luke realizes that if Colt is set on doing this, he's going to need his father's support. After probably the most honest conversation the two have ever had, Luke signs a release for his son to join the Army and tells him how proud he is of him.
The decision to have Will release his own album independently is brilliant. With today's technology it's not as hard as it used to be, but first Will needs Luke to release the songs he wrote with Kevin back to him. Luke is busy dealing with Colt, so Will has to switch gears and write new songs himself. It doesn't work out so well, so Will goes back to Luke and demands his songs. After everything he's been through with Colt, Luke realizes he can't let fear stop him from taking a risk. He asks Will to come back to Wheelin' Dealin' Records, which Will wholeheartedly accept.
The world is Layla's oyster right now. Her album is about to launch, giving Layla the opportunity to change the public's perception of her. Layla gets the opportunity to open for a country singer named Autumn Chase. Autumn joins Layla at the Bluebird and at first they get along great. Unfortunately after hearing Scarlett and Gunnar sing, Autumn picks them over Layla to be her opening act, leaving Layla devastated.
Welcome back Juliette Barnes! After months in treatment Juliette and her therapist agree that the time has come for her to go home. It turns out while Juliette has been away she has become a hot commodity. Everyone wants her, but all Juliette wants is to focus on settling back into her home life. Avery is less than thrilled to see his soon-to-be ex on his doorstep. He still can't trust her unsupervised with their daughter. Juliette only gets 3 hours of supervised visitation a week, which Avery is not budging on. Juliette gets an offer to do a cameo on a Steven Spielberg movie, and since Avery isn't going to give her more time with Cadence, Juliette decides to take the role. Since she is set to leave to go on location the next day for two weeks, she asks Avery to see Cadence one more time before she leaves. Avery allows it, and listens with tears running down his face as Juliette sings Cadence a lullaby.
At a press conference where Juliette announces this huge role, she actually ends up coming clean to the world about being in treatment. Right there and then in front of all of those reporters, Juliette realizes she can't do the movie and be away from her daughter, even if it is only for a total of six hours. Seeing this, and the change in Juliette since she's been back, inspires Avery to give Juliette more time with Cadence. Baby steps.
Does Juliette have a chance at getting her life back without backsliding?
Nashville Season 4 Episode 14 Review: "What I Cannot Change"
Summary
Juliette Barnes made a triumphant return home to Nashville.