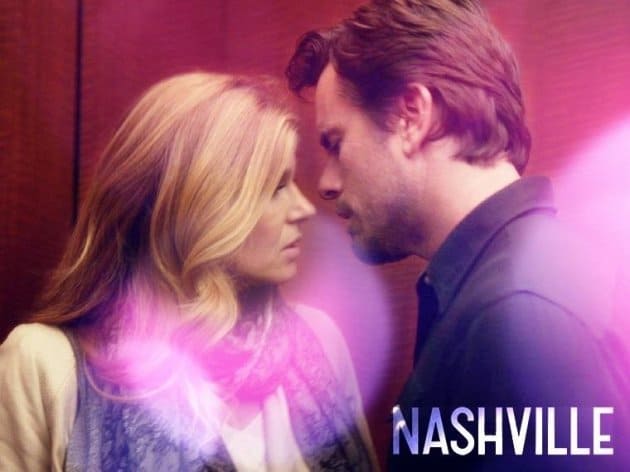 Nashville takes over the windy city this week and the most common theme…hookups! Last week ended with Deacon Claybourne (Charles Esten), Rayna Jaymes' (Connie Britton) former flame, joining her and Juliette Barnes' (Hayden Panettiere) tour, setting the stage for lots of drama. As soon as they arrive at the hotel in Chicago the tension is high.
Meanwhile, the young songwriting duo of Gunnar Scott (Sam Palladio) and Scarlett O'Connor (Clare Bowen) is quickly heating up. Each one is having roommate trouble; Scarlett has no roommate after her boyfriend Avery Barkley moves out, while Gunnar is getting hazed by his immature roommates. The only logical conclusion…they move in together! Let the awkward and budding romance begin.
Back on the tour front, Juliette, known for her bubbly, pop music, is trying to be different by staying true to herself musically. After an effort to sing something deeper and without all the smoke machines and glitter the Twitter world reacts badly causing her to have a small breakdown. In a welcome change of pace, Juliette's assistant steps up and tells her that on YouTube her new song is a hit, giving her the motivation to keep trying to change her sound and be more about the lyrics than the performance.
In Nashville, Teddy Conrad, Rayna's husband is upset because Deacon is now on tour with Rayna, even though she didn't hire him. He then runs into Peggy, the woman who almost broke up his marriage at one point in time and is madly in love with him. Being a southern gentleman and a lonely man, he offers her a ride home. One thing leads to another and Teddy ends up sleeping with her.
In Chicago numerous awkward and silent elevator rides between Deacon and Rayna ensue. Finally Rayna asks Deacon why he is actually there and instead of answering her, he kisses her…finally. As Rayna is in her room alone thinking about the kiss, she decides to text Deacon to come and talk. Deacon sees the text and heads straight to her room. When a knock comes at her door, Rayna opens it expecting Deacon but it is actually Teddy!
In a switch to Nashville, Scarlett and Gunnar are flirting as they move his stuff into her house. Avery then comes over to give Scarlett the money he owes her and to tell her that he still needs her in his life. At that moment Gunnar comes around the corner and causes Avery to throw a fit and then his fists. Unlucky for him, Gunnar is a much better fighter and not only wins the fist fight but gets Scarlett as his nurse.
Back in Chicago, just as Teddy arrives, Deacon turns the corner and sees him standing there and gets his heartbroken again. Teddy then comes in and tells Rayna that he is done trying to make her love him and in a strange turn of events, he asks for a divorce!
With Rayna back on the market it looks like we are in for many more hookups, but will Deacon be one of them? Plus, Juliette is going to change her image, or at least try and Rayna gets a case of cold feet while on stage. Tune in next week to see it all unfold!
Tell us what's wrong with this post? How could we improve it? :)
Let us improve this post!