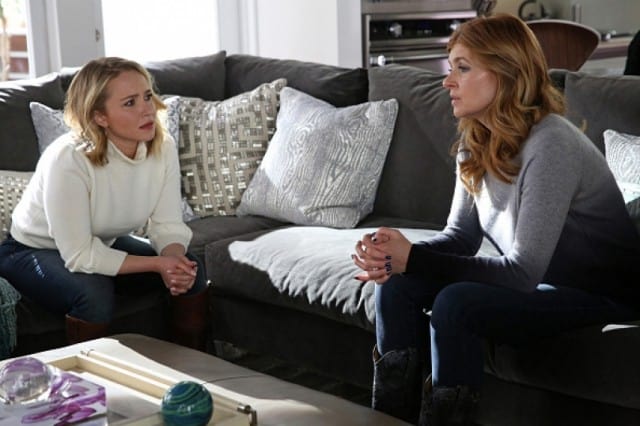 This week's Nashville showed two different results of what happens when a mother holds on tightly to her baby. When the baby is an actual baby, it will probably work out. When the baby is a teenager, well you better hold onto your cowboy hats because the consequences were enough to knock the wind out Rayna James.
Juliette is finally reunited with Emily and Glenn. She wants the dream team to work together to work on her next album. Avery hesitates agreeing to being Layla's band manager since Cadence and Juliette are getting along so well. But when Juliette starts to ask if Avery would be willing to produce a few songs on her next album, Avery panics and agrees to Layla's tour on the spot. Juliette is hurt that Avery will be taking Cadence with him, but she doesn't feel she has the right to ask Avery for anything big after everything she's put him through. She sees Layla and Avery singing together during a sound check later and Juliette finally admits to Emily that she wants Avery back. God bless Emily for agreeing to nanny/spy for Juliette while Avery is on tour.
Boy is it great to see Will in a studio again! He's finally back where he belongs. Except he's still healing over his breakup with Kevin. Will tries to do this by moving on, but his "gaydar" isn't perfectly tuned yet. This is going to be an interesting thing to witness, but maybe Will should just focus on the music for now.
Out on the road Autumn proves to be a subtle problem for Gunnar and Scarlett. Autumn pampers Scarlett with a spa day but shows obvious interest in Gunnar. Gunnar and Scarlett have talked about keeping their relationship professional for the sake of the band, but Autumn's subtle moves have Scarlett's heart feeling differently. The question remains though, what are Autumn's true intentions?
Riff disappears leaving Luke in the lurch and Riff's wife a complete mess. It is the first date of the tour and Luke doesn't have his other act. By the time they find Riff he is in a hospital in New Orleans. He suffered a stroke after an overdose of performance enhancing drugs and alcohol. Riff's wife reveals that she was the one who made Riff retire years ago when his behavior got too out of control. Obviously there is no way Riff can be Luke's other half on this tour. Luke is going to have to figure out what to do for the tour's entirety, but at least country superstar Thomas Rhett is able to cover for the night. Anyone else get starry-eyed when he sang his best-selling single "Die A Happy Man"? Luke considers cancelling the tour altogether, until Juliette walks in the door and saves the day. Though that's not the reaction Layla has to the news. This should be a fun tour.
Rayna arrives home naively thinking that everything will work itself out with Maddie. She doesn't see that Maddie's defiant attitude has been building for awhile. Rayna tries to have a conversation with her daughter only to find that she has run away. Her first stop is to Cash's house to see if Maddie has sought refuge with her new BFF. While denying any knowledge of where Maddie is, Cash has the nerve to question Deacon and Rayna's parenting. After endlessly searching Rayna turns to Juliette. All Juliette can do is offer her friend support. They both know what it is like to be superstars at 16, but they also know what it is like to be worried mothers.
Cash actually is harboring Maddie, then goes above Rayna and Deacon's heads to get Maddie a recording deal with Sony. Cash convinces Maddie to get that recording contract by getting legally emancipated.
Were Rayna and Deacon too hard on Maddie, or has Cash's influence spread too deep?
Nashville Season 4 Episode 16 Review: "Didn't Expect It To Go Down This Way"
Summary
Juliette reconnects with Rayna during her troubles with Maddie in the latest episode of Nashville.