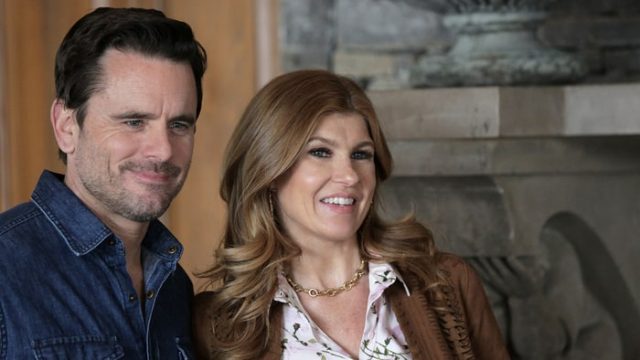 May was a rough month for Nashville fans. The series was cancelled after four seasons on ABC and its future looked pretty grim. Luckily, a few weeks after the cancellation was announced, CMT decided to pick up the series that stars Connie Britton and Hayden Panettiere. The fifth season will kick off on January 5th. CMT recently released a trailer for Nashville's fifth season, which looks like it will have just as much drama as the previous four seasons. Here are five things we already know about the upcoming season of Nashville.
1. Juliette is Alive
When Nashville's fourth season came to a shocking close, the fate of troubled star Juliette Barnes (Panettiere) was literally up in the air. The plane Juliette was riding in had disappeared. Fans can rejoice because Juliette is alive, but she has a long road to recovery. In the teaser CMT put out, Juliette is in a wheelchair and is paralyzed from the waist down. It also appears that her rocky relationship with Avery (Jonathan Jackson) will still need some mending.
2. Rayna has a Stalker
Rayna James (Britton) is the face of country music in the world of Nashville. Her life is pretty much perfect now that she finally wed Deacon (Charles Esten). However, it looks like Deacon isn't the only one who has eyes for Rayna. CMT's clip of Nashville's fifth season shows that Rayna will have a stalker who delivers love letters to her home and visits her at work.
3. Will has a Wandering Eye
Will's (Chris Carmack) future looked bright at the conclusion of Nashville season four. His music career was really starting to take off and he had rekindled his romance with Kevin (Kyle Dean Massey). The CMT preview clip does still show the two as couple, however Will is locking lips with a mysterious man. This could mean trouble for the couple's future.
4. Maddie has a New Man
Season four of Nashville was all about Maddie (Lennon Stella) rebelling from her mother. Luckily, she realized her mistakes and walked away from the life that Cash (Jessy Schram) was planning out for her. Maddie was most recently linked with Colt (Keean Johnson). With his father Luke Wheeler (Will Chase) not returning for Nashville's fifth season, Colt will most likely disappear too. It looks like Maddie won't be single for long.
5. Scarlett and Gunnar make a Music Video
Scarlett (Clare Bowen) and Gunnar (Sam Palladio) finally realized what all Nashville fans already knew: The two are destined for one another. In order to get more exposure on their next single, Rayna suggests the two make a video. The result is something that will push the envelope and cause Scarlett to question her relationship with her band mate.
You can check out the full trailer right here:
Are you excited for the fifth season of Nashville? Let us know in the comments section below.
Photo by: ABC