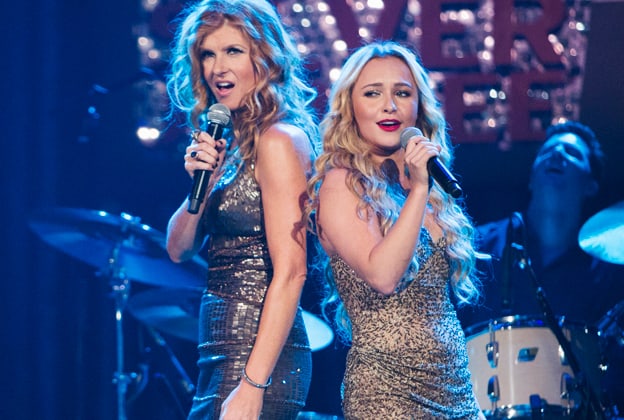 Nashville fans are still rejoicing at the news that the cancelled ABC drama was revived for a fifth season on CMT. It was announced a few weeks ago that the series will continue on with Connie Britton and Hayden Panettiere with a release date slated for later this year. Over the last few seasons, the series has lacked the luster that was present when it debuted back in 2012. Here are 5 ways to Nashville to make it the awesome series again!
1. Give Rayna and Juliette More Screen Time Together
It is clear that Connie Britton and Hayden Panettiere have excellent chemistry as proven from the first few seasons of Nashville. Lately, Rayna and Juliette have been dealing with their own personal drama and they had very little interaction in season 4. Have these two leading ladies work together more and the success of the show will be evident very quickly. Plus, the return of Juliette's "diva" persona would not be a bad idea!
2. Quit Breaking Up the Bands and Switching Record Labels
Over the course of four seasons, Nashville has had its fair share of bands breaking up and starting anew. This could also be said of the singers jumping ship from their record labels. Though this does cause a dramatic storyline, it has been played out and the viewers are over it. This means keep Gunnar and Scarlette together as The Exes and having them stay with Highway 65 for the long run.
3. Enough with Maddie's Teen Angst
Maddie Conrad is currently the biggest brat on network TV. She whined about not having a record label so Rayna finally gave in to her daughter's demands. When Maddie found out she had to share the limelight with kid sister Daphne, she went off the deep end and got herself emancipated. With that storyline wrapped up in season four of Nashville, season five can be dedicated to Maddie being thankful for what she has in her life.
4. Focus on Avery's Producing Career
Avery has finally found his niche in the world of Nashville. He has become a successful producer, but that was all shadowed by his rocky marriage with Juliette. Since the two are on better terms (pending the airplane Juliette is on gets located), Avery's story can be devoted to producing a new album for…
5. Will can now work on a Music Career
It has been a tough few seasons for Will Lexington on Nashville. Now he has finally accepted the fact he is gay man working in the country music industry. Since his career is moving in a positive direction, he will need a new up-and-coming producer to help with his album. He only needs to venture down the hall to ask friend and roomie Avery for help in that department.
Are you exited for the return of Nashville? Let us know in the comments section below.
Photo by: ABC