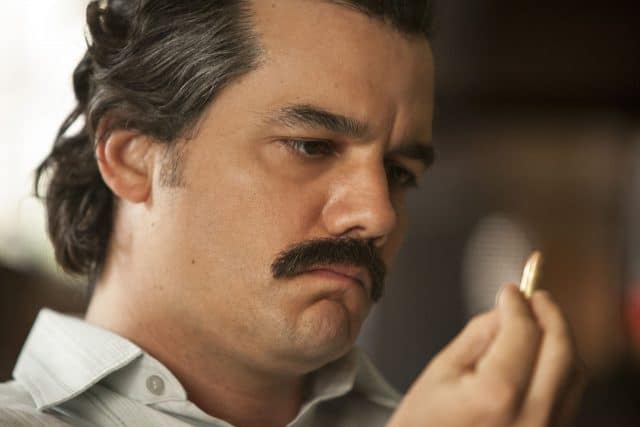 Netflix isn't wasting any time when it comes to Narcos. Just days after debuting all 10 episodes of the crime drama's second season (Season 2 officially hit Netflix this past Friday, Sept. 2), the streaming giant has renewed Narcos for not just one but two more seasons, ensuring that that series, which centers on the criminal activities of the Medellin cartel and the agents from the United States and Colombia that try to stop them, will continue on through at least Season 4.
Per Netflix, Narcos is the true story of the U.S. and Colombian efforts to battle the Medellin cartel during the cocaine-fueled drug wars of the 1980's. Multi-layered and multi-faceted, the series depicts a brutal world where lines are blurred and little is black and white. The show stars Wagner Moura as Pablo Escobar, Boyd Holbrook as Steve Murphy, and Pedro Pascal as Javier Pena.
In Season 2, which, as mentioned above, debuted on Netflix on Friday, notorious drug kingpin Pablo Escobar is on the run, with the Colombian authorities in relentless pursuit — and determined to put an end to his illegal activities. Furthermore, the drama's second season promised to feature the death of Escobar, which means that the next two seasons of the series will be without its main antagonist.
The first two seasons of Narcos are currently streaming on Netflix. Season 3 will debut sometime in 2017. Watch the teaser for the new season below:
Narcos fans, have you finished watching Season 2 of the series yet, and are you excited about the two-season renewal? Comment below and let us know your thoughts.
[Photo via Netflix]