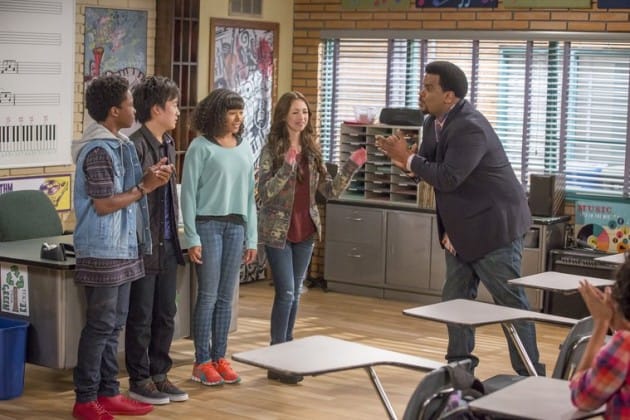 Originally purchased by NBC to much hype in early 2013, it's been a long ride to air for Mr. Robinson, going through a full cast and showrunner change and a year-plus delay from its original slot as a 2013-14 mid-season replacement series. That downward trajectory became even more well-defined when NBC finally announced they'd be burning it off in a three-week stretch during the dog days of summer; there didn't seem to be much hope for Mr. Robinson's survival before it even began, suggesting the retooling and long development cycle hadn't produced the sitcom they were looking for.
And boy, were they right. Mr. Robinson is an absolute mess, like a multi-camera, thoroughly castrated version of Antoine Batiste. Craig Robinson stars as a part-time musician who becomes a full-time teacher, trying to manage the "wacky personalities" of his colleagues and students, while still pursuing his dream of making it big as a musician in his band, Nasty Delicious. A simple, familiar premise, and one that seems pre-fit for Robinson's particular musical and comedic talents (minus his ability to deliver vulgar punchlines, best seen in This Is the End) – and yet, Mr. Robinson does absolutely nothing to derive any meaning or life out of that premise, six episodes of television that are utterly incapable of garnering a laugh at any point.
Seriously: for a show with such an inherently funny star, Mr. Robinson may be the most unfunny network sitcom debut in recent memory (though network-mate One Big Happy tried really, really hard earlier this year). Even Craig himself seems disinterested in the proceedings, mumbling his way through punchlines about his ex-girlfriend/current colleague Victoria (Meagan Good), and the other "colorful" people that he works with at the school – like Ashleigh, a full-time teacher who seemingly can't pay her bills, because she's also a full-time stripper. Ashleigh, sadly enough, is probably the most fully-realized character of the lot. Outside of the lazy framing device of "immature musician kind of teaches kids about music," Mr. Robinson is interested in doing nothing but playing out typical sitcom stories – 'Person Sees Character Naked, So Feels Need to Show Them Their Genitals,' 'Older Character Gets Really Drunk and Acts Immature,' or 'Random Excuse to Sing Pop Song' – with any number of tired, cliche-ridden punchlines (I can't even begin to count how many stripper jokes are made within the sad two hours of the show's six episodes).
Robinson himself really only seems interested in the musical performances he gets to do in each episode. Unfortunately, those scenes and songs are among the least entertaining, unfunny material available (I'm sorry, but nearly a dozen songs ALL centered around thinly-veiled sexual innuendos gets grating quickly), and Robinson doesn't bring any life to the series of bad jokes he gets tasked with delivering in each episode. There are times it honestly feels like he's not even trying – in the season finale when a student walks out of the room angrily (after rapping, because that's what a black kid learns in music class, of course – for Christ's sake, NBC), Craig does nothing but raise his arms, barely whispering the name of the student who left (the kid threatens to drop out, of course… this show rides every trope possible, be it sexual or racial). He can't even bring himself to emote his character's most emotionally conflicted moment of the entire six episodes, which makes for some of the most awkward studio sitcom moments you'll ever watch.
It all just feels like a giant waste: a waste of Craig Robinson and Peri Gilpin's talent (she plays the overburdened, drink-loving principal), and a waste of money that could've been spent on Hannibal (or literally anything else) – there's only one entertaining moment of the entire series, and it comes with two minutes left, featuring Robinson and a famous guest star performing a cover of a 40-year old song. That's the ultimate highlight of Mr. Robinson, NBC's latest half-hearted attempt to resurrect the dying multi-camera comedy genre. With an utter lack of creativity in every single facet, it's back to the drawing board for Robinson and company with this stinker.
[Photo credit: Paul Drinkwater/NBC]