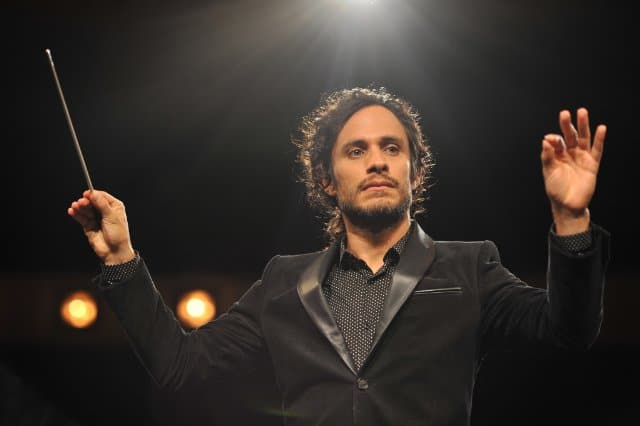 Based on oboist Blair Tindell's 2005 memoir Mozart in the Jungle: Sex, Drugs, and Classical Music, Mozart in the Jungle was one of Amazon's first series orders back in March of 2014, powered by a script co-written by Roman Coppola, Jason Schwartzman, and Alex Timbers. Set in modern New York, "Pilot" is an opening episode that, like many pilots of its type, struggles to find a balance between comedy and drama – and like any non-network pilot, over-indulges in nudity and profanity. However, underneath the veneer of chic NY comedy and soapy drama is a wonderfully deft, slightly satirical look at those who live a life of passion – or more precisely, try to make careers out of it.
"Pilot" is an episode that works best in its smallest moments; Rodrigo literally dropping Sharon the moment he heard Hailey playing behind his audition screen (so pretentious); any time Malcolm McDowell is required to make a cranky face; or when Mozart in the Jungle depicts the ever-evolving world of art, and how people either find themselves struggling to reach the top, or desperately trying to cling onto it on the other side. In those moments, Mozart is much more contemplative; and when the show focuses on Lola Kirke as young Hailey, the show takes off, a different take on the passionate musician I found refreshing, thanks to a performance that infused a familiar archetype with a sense of contained energy that didn't feel showy, desperate, or holier-than-thou. That measured performance makes the ending all the more powerful, the one moment in the pilot the show attempts to tether the audience to a character's journey – and it nails it.
When Mozart gets flashy, it suffers quite a bit: as fun as Cynthia's dialogue about sleeping with various orchestral performers must have been to write, it feels corny and over-the-top on-screen, pushing too far into the comedic meter. Like Lizzie's ganja metronome, these moments feel inserted in a show to make it cooler, something that it clearly doesn't need, with its electric musical performances (if you look past some of the subpar physical choreography, that is; the musical selections themselves are terrific), and timeless debate of what's known and what's new playing out in the power structure of the New York symphony (and again; this will lead to a lot of cranky Malcolm McDowell, which is one of my favorite things on the planet). And for how well the show is able to connect the audience to Hailey, "Pilot" fails to do it with utterly every other character, jumping wildly from the begrudged, aging master, to the revolutionary upstart who doesn't have time for tradition, to the promiscuous, aging performer, to newly-discovered talent… you see the pattern?
As Mozart rushes through its elaborate world construction, something is lost in character, an emotion best captured when Thomas calls the goofily-dressed, over-serious Rodrigo as Sargent Pepper, a dis Rodrigo bats his eyes at. There's something there between these two men, a certain chemistry that is begging to be given some depth with the writing; but Rodrigo is left to smirk and look stupid, undermining the actual genius of his character by painting him as talented-but-pretentious, a perfect mirror to the talented-and-pretentious (but aging) Thomas, whose elderly stature is conveyed visually by the fact he doesn't dress like an idiot.
It doesn't make for the deepest central conflict; however, with the occasional bit of sharp wit and a consistent string of lead performances (highlighted by Kirke, who really is fantastic), Mozart certainly isn't a show without promise. But if the show wants to distinguish itself in any way from any show of its kind, it needs to embrace the characters in its story, and develop the conflicts internally with each performer. Stick to external conflicts, and Mozart can very quickly turn into Smash, which is rightly infamous for all the wrong reasons. Let's hope it can avoid the melodrama, and use passion as a stepping stone, rather than a weapon.
Photo via Amazon