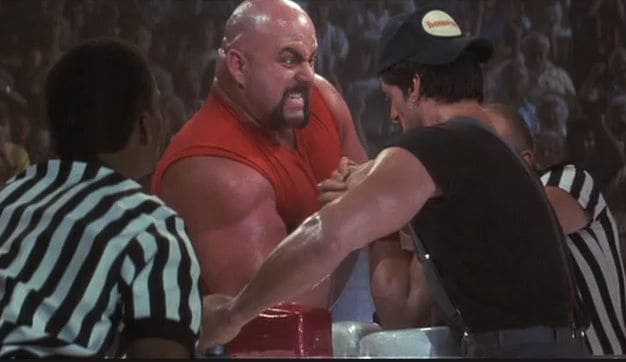 One of the most underrated cheesy 80s movies involving Sylvester Stallone (other than Cobra) has got to be Over The Top. Look, any movie featuring an incredible ballad by none other than Kenny Loggins (Meet me Halfway) has to fall into the "cheesy" category. Plus it's the only arm wrestling movie in the history of movies that's worth a salt. Other than Lincoln Hawk's (Sylvester Stallone) bratty and annoying son, this movie 100% rocks. Part of the reason I can look back on it today and love it so much was the movie's villain, Bull Hurley.
The late Richard "Rick" Lee Zumwalt, Jr. was a professional world champion arm-wrestler and actor. He is the man Bob 'Bull' Hurley in the 1987 classic. Afterwards, he appeared in several movies in small roles, such as the 1988 film The Presidio and in 1990, he appeared in an episode of the TV series Night Court, and a small role in Batman Returns in 1992 as one of The Penguin's henchmen. He also co-starred as "Judge Mental" on the kids' gameshow Pictionary. In his later years, he became an active member in a clean and sober fellowship and spent a great deal of time and effort in service to others suffering from substance abuse.
Unfortunately Zumwalt passed away from a heart attack in 2003. However, he'll always be remembered for his incredible role of "Bull Hurley." My favorite lines from the film? "I OWN YOU!" and "Second Sucks." Let's take a little walk down memory lane for one of my favorite villains of all-time from a a movie that's celebrating its 30th anniversary.
Here's a little "best of" Bull Hurley video for your viewing pleasure
And here's "Meet Me Halfway" by Kenny Loggins because yeah, this song rocks.