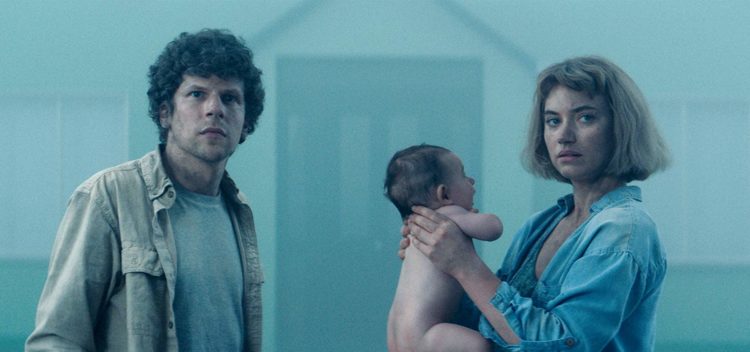 The definition of a vivarium is pretty simple, as it means an enclosed area for keeping and/or raising animals or plants for observation or research. This typically means that a part of the subject's natural ecosystem is simulated to gain a type of natural observation that can help to determine whatever it is that the research is seeking. In this particular movie, the ecosystem is simulated to resemble that of a neighborhood that has no discernible endpoint, and that is used for a very specific purpose that's still tough to discern by the end of the movie. But from the get-go, the imagery is kind of obvious even if the point of the story isn't as Tom and Gemma walk into a real estate office in search of a house, though Tom appears to be skeptical. Martin, the real estate agent, is more than a little creepy and kind of off-putting since his personality is more than a little strange. As Tom and Gemma are taken to the Yonder community, Martin appears a bit put out when it's made clear that they're not interested in buying just yet, and by the time Tom and Gemma are done examining the house, he's disappeared.
The couple attempts to drive out of Yonder, only to find that each street appears to be the same, and continues to lead them to the number 9 home, where Martin showed them around. After running out of gas they become resigned to staying in the house but find that the complimentary champagne and strawberries that were left in the refrigerator have no taste to them, which is odd enough. But when they wake the next day they make their way through the neighborhood on foot, only to find that they still can't figure out where to go and how to get out.
Even more curious is the box of food that is found in front of their new home, another curiosity that becomes a necessity as they discover that the food, despite looking appetizing, is just as bland as the champagne and strawberries. Still, they need to survive, so they continue to eat the food and return what they don't need to the box. When Tom uses his ladder one day to ascend to the top of the house, hoping to see past the confines of their neighborhood, he finds that the horizon is filled with the same view, the same neighborhood, the same strangely placed clouds, and no end in sight. Depression is quick to set in, but things only get worse when instead of a box of food on their doorstep they one day find a box containing what looks like a human child, which neither of them wants. As the child grows, quicker than a human child, he begins to exhibit strange behaviors that neither Tom nor Gemma can understand. More than that, they both come to resent the child in an obvious way as Tom refuses to have anything to do with him unless he needs to, while Gemma does what she can to make life amenable to all three of them. She fails since the boy is insanely difficult at times and creepy at all times.
As the boy continues to grow, things only continue to become more and more awkward. His habit of watching a strange, shifting picture on TV is one of the things that neither Gemma nor Tom can understand. But Tom manages to find something else to take up his time, as following the tossing of a cigarette onto the lawn the grass instantly crisps away to reveal bare ground. Tom begins to dig in the spot, going deeper with each passing day as eventually, he needs his ladder to descend to his dig site and return to the top when he's done. Over time, his health begins to fail as refuses to get enough sleep and is obviously not taking care of himself. Gemma continues to try to connect with the boy but finds it even more difficult as the days pass. By this point, Gemma has already tried everything she could think of to figure out where the boy goes every day when he disappears and has failed. But once Tom dies and is tossed down the hole he dug in a body bag, Emma attempts this once again.
What she finds is that the boy is more than what she expected, as upon seeing that she's following him, the boy actually lifts the sidewalk as though it's a curtain and flees, with Emma hot on his heels. What she finds as she sinks below the surface is that there are other levels to Yonder, all with their own singular color scheme, and all inhabited by others that were lured in and trapped in much the same way that Tom and Gemma were. When she finally returns to her own home, her body gives out as the boy puts her in another body bag and tosses her down the same hole before covering it up. The boy then leaves Yonder easily and replaces Martin at the real estate office, who expires as he walks in and disposes of Martin in another bag, to await another couple that walks in before the credits start to roll. Yes, it's an odd movie, but the imagery is fairly easy to read.