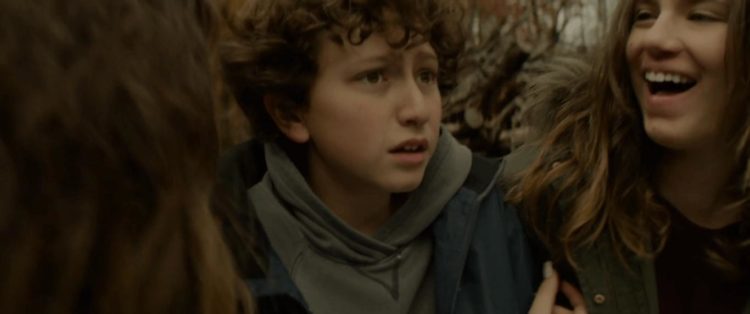 Plenty of people have felt as though no one understands them, that their lives are somehow empty, confusing, and beset on all sides by problems that don't solve themselves. Lucas is a loner that lives with his brother, as their parents died before the story. As kind of an awkward kid, he has a less than stable relationship with a girl around his age, and is often at odds with his brother, as they play a game called slapface to clear the air between them. On top of that, he spends most of his time in the woods surrounding his home, and eventually finds his way into what looks like an abandoned mental institution, or something similar, where he encounters a monster that he forms a bond with. This movie has a great chance to be something more than what it looks like initially, but for one reason or another, it slips and slides well past the moments that might have been easy to adhere to when hitting the marks that it tried so hard to establish. There's a good chance for this movie to scare the hell out of people, and to even delve into anti-bullying, but it misses both.
Lucas' relationship with the monster that becomes attached to him becomes something quite dangerous early on, but Lucas does his best to keep the relationship stable, at least until things go too far. It should be easy to feel sorry for Lucas since he spends time during the movie being bullied by two young women that are far bigger than he is and endures a relationship in which the girl he's attracted to only acknowledges him when they're not around. In other words, some would call Lucas a loser as well as a loner, while others would no doubt state that he's a victim of bullying and in need of a stable relationship.
He doesn't get this from his brother unfortunately since his elder sibling works, drinks, and while he does try to raise his brother and give him a reason to be positive, nothing ever appears to work. Their reliance on slapface is actually kind of interesting, but it's not something that can be seen as a positive since, even though might air things out, it does look as though it inflicts more pain on Lucas than on his brother, who appears to be numb to life, especially when he's drinking. But somehow it would appear that this relationship worked for a while before things started turning sour. When his brother finds a girlfriend, Lucas finds that she might be nice, but the moment she starts attempting to mother him in any way, especially when it comes to noticing his habit of running off into the woods, she starts to harp on his habits, and his brother doesn't want to deal with it. What should have turned out to be an attempt to at showcasing bullying with a supernatural lean kind of turns into a less than effective tale that feels disconnected in a way that kind of makes the movie stall out now and then.
The monster is creepy, but at the same time is kind of not quite as effective simply because the only motivation appears to be latching onto Lucas, which means terrorizing, harming, or outright killing them. Case in point, when his brother's girlfriend appears to get too involved with Lucas, the creature ends up breaking into the house and ends her life. Somehow, this still isn't enough to get Lucas to turn on the creature, as the bond that's been formed is still too strong. But when the creature kills the girl he's attracted to, that appears to be enough for Lucas as he shuns the creature. Of course, in a horror movie that's usually the worst thing to do since the individual that's been shunned tends to take this very personally and goes a bit nuts. With a creature that has no filter and is ready to defend Lucas to the death in an obsessive sort of way. When the creature is angered though, anything goes. That'd be a lot scarier if it was built up in a solid manner.
It'd be great to think that this movie could receive a reboot that would be even better, but the interest doesn't appear to be there since it's more or less one of the many horror movies that won't go down in history as one of the greatest. It is something to watch at least once when feeling adventurous and even when one desires to take a look at something that might be out of their comfort zone. But after watching it one might find that the movie does kind of lag in spots and that the creature is less than inspiring. To be sure, this would have been better had the creature been a deranged human being.