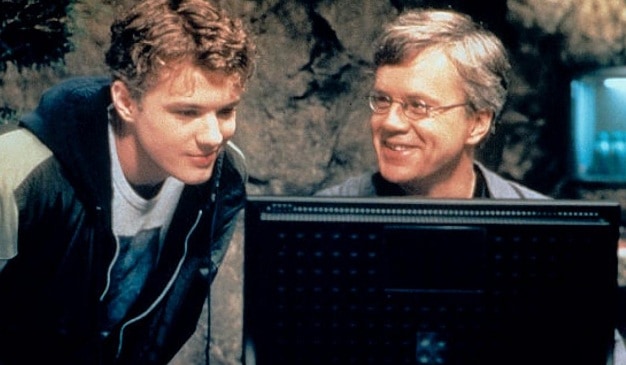 Movies often give us little glimpses into the future. It's not illegal to possess a book as in the film Fahrenheit 451 but today's technology can sure make it hard to order a controversial publication on Amazon. The book and film 1984 gave us a harrowing glimpse into a new highly suppressive world. Today, we don't call it Newspeak, but how many words and phrases have been changed in the past few decades? We are compelled to learn this new language to survive in this hyper politically correct world No need to question–we just do it. When technology first entered its golden age, we all eagerly logged on and didn't consider the consequences. Where was all this information going? How do we protect intellectual property? The 2001 film Antitrust deals with a monopoly on information and how our home computer leaves us exposed and vulnerable.
In the movie, Tim Robbins plays a guy Gary Winston who is a dead ringer for Bill Gates, side-parted hair, geeky glasses and all. He extends offers to two Stanford grads to make his vision of "Synapse" come true for his project NURV (Never Underestimate Radical Vision) with the goal of taking over all information across all platforms. In 2001 smartphones, tablets and "Alexa" were all still in the works so this film anticipated how platforms and handheld devices would replace the desktop and laptop. Winston sought to control all of the information in the world. Sort of like Bill Gates who has been hit with antitrust lawsuits, which are cleverly referenced in the movie.
Spoiler Alert: Gary only needs one piece of source code to complete his mission, the problem is the kid who is working on it will not work for him. So he kills Terry and steals it. He knows what the young coder is working on–of course, he does, as he can track everyone, anywhere, all the time. Winston has the money to go high into cyberspace to steal info and can go low to hire a bunch of thugs to beat his message home. Milo his protege stops him by exposing Winston's crimes and his source code.
Today, we have "white hat" hackers and "black hat" hackers and it's hard to tell who are the good guys and who are the bad ones. Wikileaks have spilled high-security government secrets to the masses. The scary "satellite system" in the film is for real. You can view anyone's home up close on Google Earth. We post our most private thoughts and photos of our lives on Facebook, which becomes part of the "cloud" forever. It's still jarring to see an ad on our Facebook feed for a product or service that we just searched for when not logged into social media. The "Bill Gates" character in "Antitrust" also serves as an early warning for the rise of Mark Zuckerberg.
All of our information, research, etc. is data mined and much of our daily jobs are done online. Youtube and music sharing sites can't keep up with the copyright violations. To do our jobs or shop online, we must constantly "feed the beast", especially the cavernous belly of Microsoft with our information.
Yes, like in the movie some young coder working in a garage might still bring the whole thing down. Till then, we go back to reporting our status on social media and hope that the kid who does come up with the code to "open source" the whole shebang keeps his doors locked.