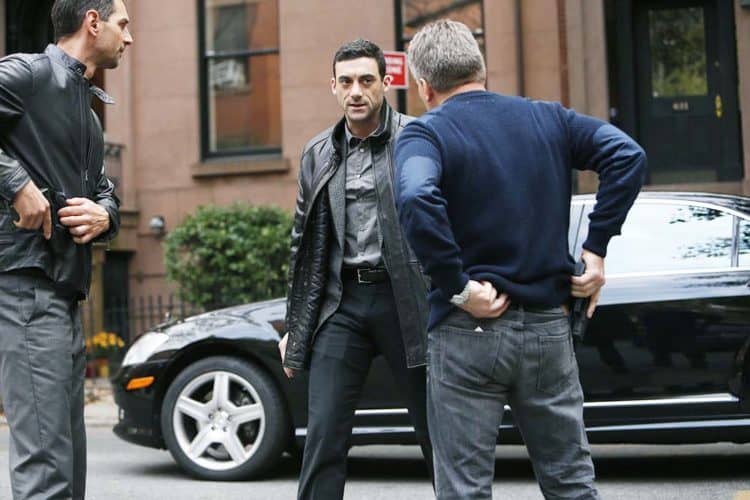 Morgan Spector tried convincing himself that acting was not for him, but even his high school teacher knew that he had the talent. After struggling to become a successful actor, he almost gave up and wanted to pursue law instead, but his heart was in theater. By 2012 he was content in being an actor since he could afford to pay rent and buy some food. So far he has acted in series like Allegiance as well as several films and plays. His wife is also an actress. These ten facts will tell you more about him.
1. He met his wife on Broadway
In 2014, during the rehearsals of Machina on Broadway, two actors met and fell in love. Morgan and Rebecca played the role of lover and young woman respectfully and started dating a few months later. The relationship remained under the wraps for some time, but it took only a year for Morgan to know that he had found his soulmate. Therefore in September 2015, the couple got married.
2. Why he became an actor
Morgan said that to him, acting is not a calling. He began acting as a child, and it developed into a passion; thus, he kept acting because he enjoyed it. He explained to The Last Magazine that nowadays people feel like it is wrong to admit that they find pleasure in doing something. However, he confessed that he only keeps acting because he likes it and the day he stops liking it, then he will quit.
3. He does not mind nudity
Most people are conscious of their body, but then in acting and modeling, nudity is a small price you have to pay. Some actors have been adamant about not ever doing any nude scenes, but others like Morgan seem not to have a problem with it. In Permission, a movie that has a lot of intimacy, Morgan gives us a glimpse of his groin through a full-frontal nudity scene. Of course, since his wife is the film producer, she must also not be bothered about showing off her man's package.
4. He started acting when he was seven
In his childhood, Morgan was involved in plays thanks to a group of actors that had formed a rep company. However, when the actor joined high school, he took a break because to him, it was not something to be proud of; thus, he was self-conscious about it. So determined was he not to pursue the degrading career that he swore he would not take up theater yet he did. After graduating from Reed College with a major in theater and literature, Morgan considered studying law since he admits he is a closeted nerd. However, he liked acting, so he still found himself trying to get his big break.
5. He almost quit acting
Nothing hurts as much as wanting something desperately yet you cannot have it, but that was Morgan's predicament. Upon graduation from Reed College, he got to be cast in a low-budget film before joining the American Conservatory Theater. For two years he was cast as a 50-year-old Holocaust survivor and later moved on to stand in for Scar and Pumbaa in The Lion King. It was becoming quite evident that his career was not leading anywhere since he had to be a bartender to earn a living. He, therefore, stopped acting for one year to weigh his options but still returned to be an actor as he recounted to Reed Magazine.
6. Why he joined the American Conservatory Theater
Morgan knew that his acting career was much better off if he was in New York, but could not leave San Francisco because of love. He had been dating a certain girl, and since he had been far away from her in college, he wanted to be within San Francisco for his grad school education. Therefore Morgan enrolled for the three year MFA program at American Conservatory Theater to be close to her.
7. His debut in Broadway
They say no matter how long the night lasts, the dawn will always bring light with it. Morgan's dawn came in 2010; when he was about to give up on acting, he made his Broadway debut through playing Rodolpho in A View from the Bridge revival. He already had the small role of Tony but had been understudying Santino Fontano too. When Santino Fontano, who was supposed to play Rodolpho could not go on stage after getting a concussion, Morgan stepped up and got to star alongside Scarlett Johansson. The performance earned him positive reviews from reputable magazines leading to the start of a beautiful career.
8. He is a fitness enthusiast
When you hear a woman advise you to see a man in his underwear, you know that you are in for a lovely surprise. Janeane Garofalo talked to The New York Times and could not hide her admiration for Morgan's six-pack thus said seeing them should be on anyone's to-do list. Morgan revealed that he does not observe a diet so strict as to not enjoy lamb dumplings. Since he works out so much, then whatever calories he consumes will be gotten rid of in the gym.
9. His tattoos are real
If you have seen Morgana's shirtless pictures, then you must have noticed the numerous tattoos he has on his body. One that is quite clear is that of a naked woman on the left side of his chest. However, the tattoo was turned into an octopus most likely to promote decency on national television.
10. He can be funny
While Morgan tries to keep his life out of the media, he could not wait to announce he was going to be a father. Rebecca posted on Instagram that there was a whole lot of new things that were coming with 2018 as a caption to a photo of her holding her baby bump. Thereafter, her husband also did the same wearing the same t-shirt that Rebecca had worn and held on to his "manly baby bump. He captioned the image saying that as the bearer of the first-ever male womb, he was asking everyone to be cool for the next century.
Tell us what's wrong with this post? How could we improve it? :)
Let us improve this post!