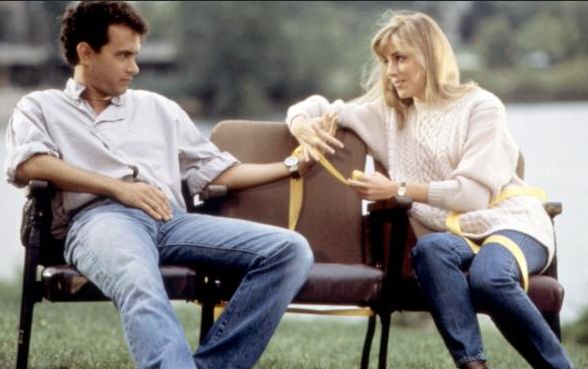 You could argue that Tom Hanks had Oscar acting ability as Uncle Ned on Family Ties but then you'd be lying to yourself. You could say there were hints of his greatness even before that in Bosom Buddies but you'd be lying to yourself then too. How about Bachelor Party? Nope. The Money Pit? Splash? These were all good movies and I think we'd all agree that Hanks was great in all of them but at what point did he transform from comedy into the guy you see today?
Many say that Hanks really showed how good an actor he was in the movie Big. I agree with that 100%. While the role was still technically a comedy, Hanks showed us his versatility. He then took on another comedy called Punchline in which there were lots of serious moments considering it was about stand up. Philadelphia was obviously the movie that changed his career and got him the Oscar, but where were the origins to this greatness we now witness so often?
I'm going with the 1986 movie Nothing in Common which starred he and Jackie Gleason as a father and son. This is a movie that explored an enormous amount of serious issues including cancer, father and son relationships, rough childhoods, alcoholism, work stress, anxiety, you name it, all while also holding a very comedic tone throughout. This is the first movie you really get to see Hanks have a few "freak out" moments that today might be considered "Oscar" moments. Anyway, I just want to point out that this is the movie. This is the one you have to see in order to see "Oscar" Hanks way back in the 80s. Remember, Philadelphia didn't come out until 1993.