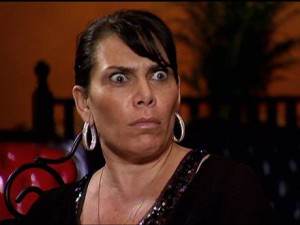 If you're like me and are left wanting more at the end of each episode of Mob Wives, you're in luck. VH1 has announced the imminent premiere of Mob Wives: The Sit Down, a post-show of sorts that will feature a rotating group of cast members discussing the events of the preceding episode. Hosted by Carrie Keagan, the first sit down is set to occur on January 29th at 9:00 when the likes of Drita, Renee, and Big Ang will be stopping through.
In the sit down, there'll be time for answering fan questions through the VH1 Co-Star app when we're not shooting dirty looks or screaming insults at one another. (Hopefully any episode with Drita, Ramona, and Karen takes place in a WWE ring.) Considering how season two of Mob Wives has went, I have a feeling there'll be a fair amount of that going on; in four episodes, there's been an all-out brawl, a trip to jail, and enough tension to cut even the most overcooked of lasagna bolognese, and we're only about a third through the season.
The first sit down will be over an episode that finds the wives more divided than ever. After a near fistfight in the middle of a restaurant, Carla and Karen are back in their respective corners, where Drita and Ramona, respectively, currently reside. Renee and Big Ang, currently dealing with personal issues relating to their sons, are trapped in the middle of the drama and may have a choice looming as to where their loyalties truly lie.
If you want real-time updates during the episode in addition to post-show analysis, you can follow all six Mob Wives (Drita, Ramona, Karen, Renee, Carla, and Big Ang) on Twitter.
Mob Wives airs Sundays at 8:00 on VH1.
Will you be checking out Mob Wives: The Sit Down?
Tell us what's wrong with this post? How could we improve it? :)
Let us improve this post!