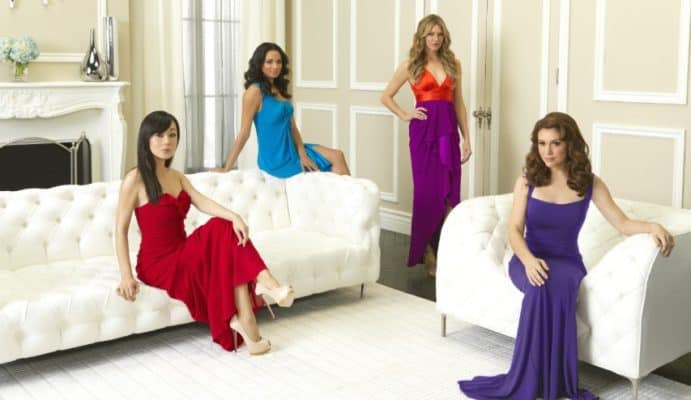 If you weren't a fan of the television series "Mistresses," then you may be under the impression that the four season series was little more than a show about all manner of lustful depravity, adultery, sneaking, lies, deception and cheating spouses. You had to really watch it and get into the plots to understand that it was really much more than that. For certain there was plenty of infidelity, boozing, and all the things that go along with guilty consciences and being the third wheel. The British based drama brought with it life lessons and situations that are highly applicable to the real world. Here is how the show "Mistresses" was truly important for television.
The cast of women were important
The main focus of the series was upon the lives of the women involved. More than just watching them booze on a frequent basis or sleep with other women's husbands, the audience was given a glimpse into their lives and it was from here that each episode gained remarkable relevance for women as well as men during the run.
It analyzed relationships
How many times have you wondered why people do the things that they do? Many of us apply that to ourselves as well. "Mistresses" was a daring show that kicked off the first season with Katie, a General Practitioner in the medical field, having sex with the son of her patient who had died. While this may not seem shocking at first, it gains a bit of depravity when you learn that the man who had died had also been her lover. She oversaw her new lover's father's euthanasia. This complicated triangle is twisted to say the least, but gives the show it's borderline raunchy and shock inspiring flavor. It's not a pleasant scenario, but it grabs your attention and holds it because you're wondering what Katie is going to do next.
The next character of noteworthiness is Siobahn who is a lawyer who turns sex addict. Her husband has issues with infertility and the way that she deals with it is to have an affair with a co-worker, which leads to a pregnancy. This situation sets the stage for some intense drama. We get to know Siobahn and there are some levels that non-sex addicts can relate to. It's a fairly common issue in the world, but not one that gets the attention that it deserves. Any addiction has the potential for ruining the lives of both the addict, and the people that they love, or who love them and we see her story unfold.
Commitment issues
Jessica is an event planner who has some serious issues with making a commitment. It's clear to see why she prefers to enter a string of relationships with married men, and even a woman who is engaged to be married. She's going for unavailable people who pose no threat to her self-imposed singularity and we see that this is the way she protects herself from getting hurt by another in a serious relationship.
Even traditional moms can become someone's mistress
Trudi is a widow and the mom of two who is a professional cake maker to earn her living. You wouldn't expect it, but she gets involved in a few bed-hopping escapades. Does this sound like a focus on female sexuality to you?
A timely issue
Unless you watched the show and stuck with it, you might miss the fact that it's really an analysis on female sexuality. While there is drama and plenty of shock value, the show delved into topics that are usually just glossed over and not discussed. These are things that do happen in the real world, whether or not you have personal experience of this nature. The plotlines may rise to new levels of drama, but the series is all about relationships. The four characters do what they do, each for their own very personal reasons, but we can't ignore how they help one another through the dilemmas that they face with issues that are relevant to the experiences of women today. Miscarriages, divorces, raising kids, financial problems, loneliness and guilt. It's all there and every now and then, the characters give us something useful in the realm of understanding, at least in part, why people do the things that they do.
A brief run of 4 seasons
"Mistresses" was cancelled as it rounded out its fourth season. It was ABCs decision not to renew it for a fifth run. The show was an endless chore of changing locations for the cast, with the first season shot in Los Angeles, then moving to Canada to keep expenses down in production. Due to changes in the tax laws, the crew moved the operation back to Los Angeles for the final episode, but the American show that was inspired by the British series, would not be invited back. It's still relevant and you can find it in specially packaged boxed sets.