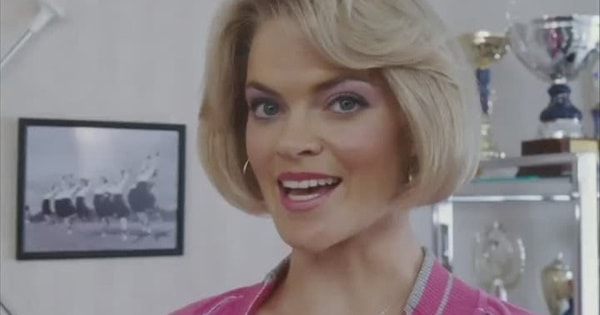 Missi Pyle has been a very busy woman since there's not a lot she hasn't been seen in throughout last ten to twenty years. Well, there's still a lot but when you look at her filmography you get the feeling that she's been just about everywhere at some point and time and might have had a lot of other opportunities that didn't pan out. Seriously, her filmography reads more like the manifest of a passenger plane than a resume. It's impressive to be honest and it shows that she knows how to hustle and how to work as hard as possible in order to get noticed. Throughout the last two decades she's been doing everything that comes her way it seems and more in order to keep her career on a high note. She's been a supporting actress more often than anything but it is where she tends to shine and the kind of support she lends is usually important, funny when necessary, and bolsters the other actors in a way that supports the story line and makes it known that she's there to help out, not to steal the show. Of course in some cases she's been allowed to do so and it's been pretty awesome to watch since she has a very strong personality and is able to take the moment when it's required.
You can't just freeze when your supporting role becomes the crux of the show after all. Thankfully she doesn't have that problem.
10. There was a grizzly bear at her wedding.
This isn't a joke. When she married naturalist Casey Anderson he had his pet grizzly, that's right, a 'pet', Brutus as his best man. That might have been difficult for the maid of honor to walk down the aisle if Brutus had decided to get a little uppity about who he was walking with, but it would seem that everything went just fine and no one got mauled during the wedding. Casey must have had Brutus since he was a cub to have that kind of influence over him.
9. She was in Galaxy Quest.
Her role was as Laliari, one of the Thermians that recruited Tim Allen and his crew for a real life mission after thinking that the TV stars were real-life heroes. She even wound up hooking up with one of the stars near the end and being put on the revived TV show that was shown just before the credits rolled.
8. She had a role in Dodgeball.
This was an amusing, no, hilarious role since not only was she shown as just a very severe and less than attractive woman with bad teeth and a unibrow, but she was considered to be the deadliest woman alive….with a dodgeball. The real funny part however was that Owen, of the Average Joe team, fell in love with her at first sight, and during the final game between Fran's team and Owen's they both got disqualified after failing to eliminate one another and then being nailed by the other teams' players with multiple balls.
7. She's in a band.
Missi and her friend Shawnee Smith have a band called Smith & Pyle. They haven't made a whole lot of headway when it comes to being a successful band but the main point is that they're doing it and they're enjoying themselves.
6. She's trained in Taekwondo.
For anyone that might not know a lot about this martial arts style it involves a lot of quick striking and head-level kicks as well as a lot of jumping and spinning. The average stance is a lot narrower and gives up a good deal of stability in relation to other styles, but it's also thought to trade stability for agility if one can become proficient enough in it. In other words since Missi is trained in this style don't think she can't put her heel upside your head if you make her really mad.
5. There's a drag queen named after her.
This seems like something you could be proud of and at the same time kind of confused by. It's kind of amusing to think that a drag queen would take Pyle's name and make it their own, it's Pissi Myles by the way, but it's still kind of strange.
4. Her filmography is very extensive.
As I mentioned in the beginning she's been a very busy woman throughout her career and it shows. There's rarely a year in which she wasn't doing something in either TV or film.
3. She had a part in the latest Jumanji movie.
Her role is that of Coach Webb, the PE teacher that sends Martha to detention for refusing to participate in the ongoing activities. Seriously, when did PE become such a contested class?
2. She showed up in the TV show My Name is Earl.
This show was funny, don't let anyone try to fool you into thinking it wasn't. She was in one episode but it was pretty hilarious since she was one of the many people that Earl wronged in his past.
1. Her career took off in 1996.
She's been at it now for over 20 years and shows no sign of stopping. Maybe one of these days she'll be a leading character, but even if not she's one of the best supporting actresses around.
She could probably pull off the role of a lead.