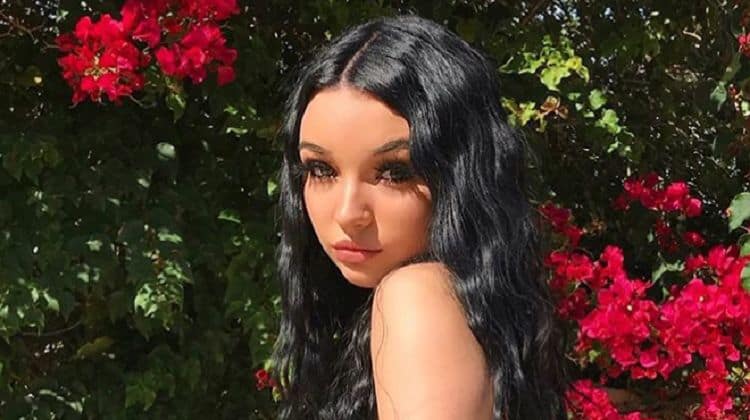 TikTok makes a lot of people famous lately. They don't have to do much more than be interesting and entertaining, and they primarily show off their dance moves or lip-syncing skills. However, those who do it well are conquering the online platform and turning it into a place of business launching careers as influencers in a market that seems to have endless room for people who want to be famous. Miranda Mason is one of those people. She's a famous TikTok creator, and she's been bringing her A-game for almost four years. Let's get to know more about her.
1. She's 19
She was born on October 23, 2001. This means she is halfway to 20-years-old, and she's been an online presence for some time now. She is making waves with her own videos, and it always surprises people how young she is. She appears older than her age, which is something that helps her target different demographics. She's doing quite well with that. She has more than 850k followers.
2. She's Got a Son
She might only be 19, but she's been a mother for over a year now. Her son was born in 2018, right around Christmas time. She'd only just turned 17 when he was born. She got pregnant at 17, became a mother at 17, and she's continued to use this as part of her online presence at the same time. Her son's name is Nova.
3. She Began Posting When She was 14
Her Instagram profile is one she created when she was only 14. She began posting photos of herself living her everyday life, and people began to respond. When TikTok became a thing, she decided to start an account and create a different type of content using that platform. It's worked well for her, too. She has a lot of followers.
4. She Graduated High School
We don't mean to sound impressed that someone did what they were meant to do and graduated high school, but we are. When you have a baby at 17 and you're a junior in high school, it's not easy to continue on. However, she did just that. She did not allow her status as a new mom stop her from continuing her education and getting her high school diploma. We have no idea if she's going to college now, but we do know that she's got her education through high school.
5. She's Bold
She's not someone who is trying to be someone she is not. She makes it very clear in her biography that she's not a nice girl. She's mean, she doesn't like anyone who cannot handle it, and she's not going to let anyone get in her way. We appreciate her honesty, to be honest. There's nothing worse than someone who is mean pretending they are the nicest person in the world. We prefer when people just own who they are. It's better.
6. We Know Nothing About Her Baby's Father
We know he has one, but she doesn't share anything about him on any of her social media platforms. She doesn't share photos of any guys, nor does she share names or any other personal information. We don't know if this means he is not part of their lives, but we do know that she's someone who likes to keep her life private, so that's part of her story. She's not sharing anything she doesn't want to share.
7. She's From Michigan
We still don't know much about where in Michigan she's from, but we do know she's from the area. She lives her with her parents, she went to and graduated from high school here, and she's apparently sticking around for a while. We don't know what her future plans are, but we can bet that social media is a big part of that.
8. She's Got Tattoos
We are not sure how many she has in all, but we know she's got one rather large one on her arm. It's of the Grim Reaper. She does make it very clear to everyone around her that she's not a sunshine and roses kind of gal. She's darker and more into things that are not the norm. Her jet black hair and her bold makeup and tat on her arm do make her look like she's a lot older and like she's dangerous. However, her tattoo is not one she has just to have. She got this one because her father has the same tattoo in the same spot. This tells us she is close to her family, and that she's got a strong family base.
9. She Waited Five Years to Post on YouTube
She is not someone who does things hastily. She started her own YouTube channel back in 2015 just after her 14th birthday, but she did not post a thing to the channel until the beginning of 2020. Her very first ever post was one about herself, asking her fans to get to know her a bit through a question and answer type situation. She answers some fan questions, allows her nearly 15k subscribers to get to know her a bit more, and shares more than she typically does, which is fairly impressive.
10. She is Confident
There is nothing wrong with being confident, and she makes it clear that's her game. She's not ashamed of herself, her body, or anything about her, and she's big on showing that off and being open with her fans. She's always in something revealing, and she's a big fan of showing off her risqué dance moves despite being so young. She has a mass following, but we understand that it's primarily male-heavy, not that we think she's at all worried about being an influence or a role model on younger girls, to be honest. While her style might not be for everyone, her confidence is something that anyone can look up to and admire — and try to emulate in their own lives.
Tell us what's wrong with this post? How could we improve it? :)
Let us improve this post!