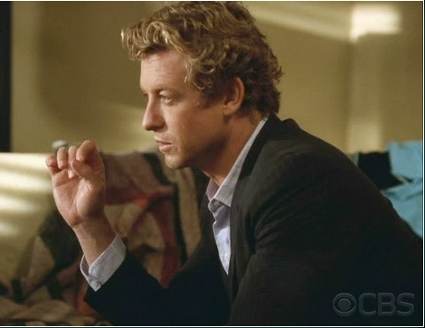 Tonight on The Mentalist, "Red Badge", we find out more background on how Lisbon (Robin Tunney) and Agent Bosco know each other. When a paroled pedophile named McTeer is found murdered, Patrick Jane (Simon Baker) and the CBI team find out that he was originally caught by Lisbon when she was a San Francisco police department inspector–and Bosco was her boss. Lisbon was written up as a hero in the papers, with quotes of praise from Bosco himself.
The hero turns to possible villain, however, when Lisbon's print is found on the murder weapon. CBI boss Minnelli takes Lisbon off the McTeer case and gives it to Bosco. Though she initially denies involvement, Lisbon subsequently confesses to Jane that she actually has no recollection of Tuesday–the night the murder took place. After a disturbing meeting with the father of one of McTeer's child victims, a rattled Lisbon agrees to take a polygraph over the McTeer murder.
Just as Lisbon's about to testify in the trial of an embezzler/murderer she took down, Minnelli arrives to tell her she's failed the polygraph test and has to turn in her badge and gun. Now visibly shaken, Lisbon goes to the department shrink she was avoiding in the last episode. He tells her he can help her relax and do better on the next polygraph. Lisbon then confesses that her father had alcoholic blackouts and did terrible things that he didn't remember. She's worried the same thing has happened to her, and that she might have actually committed the murder. The psychiatrist tells her that he can't help her until her memory comes back. Angry and upset, Lisbon goes to Jane.
Jane is successful in hypnotizing Lisbon, but when it gets to Tuesday night, Lisbon still can't remember anything that happened. Jane is confused by this development, but assures Lisbon they'll figure it out. Meanwhile, Rigsby (Owain Yeoman), Cho (Tim Kang), and Van Pelt do some work of their own on the case, angering Bosco. But they discover that McTeer had a cell mate "Dog" for two years that turns out to be the fiancée's brother that Jane and Van Pelt met at her house.
Cho and Rigsby grab Dog at his house and scare him into telling the truth. He confesses that he was paid $10,000 anonymously to lure McTeer to the alley where he was killed. He never saw the shooter and doesn't know who it was. Back at the department, Bosco confronts Lisbon about her team interfering in the case. Lisbon goes crazy and has a complete meltdown, ending up throwing her chair through her office window.
We next see Lisbon at home, dancing around with pills and booze scattered on the table next to her gun. Cut to the department and Minnelli expresses concern over Lisbon's condition. Though Jane tries to sound confident that she's fine, Minnelli can see that Jane's worried, which concerns him even more.
Back at Lisbon's home, the doorbell rings. She opens it to find the department shrink. He comes in to check and see how she's doing, and is alarmed by the pills and alcohol–but even more alarmed by the gun she's waving around. Lisbon seems to have had a complete breakdown. She talks about all the built up feelings of anger from her job, and how she probably did kill McTeer.
The psychiatrist then starts to urge her to remember the murder, and he seems to be prompting her with the details. Lisbon starts visualizing the scene, but when he mentions the sign with the cross, Lisbon suddenly drops out of her hysteria. She tells the shrink coolly that no one but the killer could have known about it. Turns out that the whole thing is a trap that she and Jane set, from the meltdown on. Once Jane found that Lisbon had no memory even under hypnosis, he knew she's been drugged. This pointed to the psychiatrist, who'd been paid to get Lisbon's fingerprint and drug her during their sessions–as well as commit the murder himself.
The rest of the CBI team, meanwhile, followed the money trail and discovered that the extortionist/murderer that Lisbon had been set to testify against had been behind the whole thing. In the last scene, Agent Bosco tells Lisbon that he's glad she'd been cleared, and then they come to an unspoken agreement about what would have happened if it had been her after all–it seemed that Bosco may have covered up the truth if it had been her, but that's just my interpretation.
Jane arrives with donuts for Lisbon and Bosco leaves. Jane, amused, tells Lisbon he never realized Bosco was in love with her. Lisbon scoffs at this, but as Jane leaves, he peeks back at Lisbon for a moment with an indefinable look–it starts with one of Jane's serene smiles and then fades into a more uncertain, perhaps regretful gaze. Lisbon is oblivious, and the episode ends with her happily straightening her office to get it back in order after her mock meltdown.
See all The Mentalist recaps on TVOvermind.
Watch The Mentalist on CBS, Thursday nights at 10/9c.
PHOTO: Simon Baker as Patrick Jane, The Mentalist, "Red Badge" screencap, c2009 Primrose Hill Productions, Warner Bros. Television, CBS.