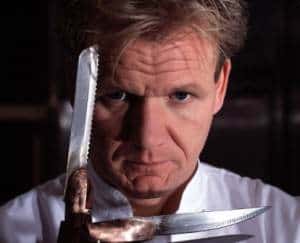 In tonight's two-parter we whittle down one more contestant and finally reveal the winner of Season 6.
The morning after the Final Three have been decided, they gather in the kitchen for their challenge. Since Whistler will play host to the Olympics, the theme is international food. Each chef is assigned a country from which they need to make a dish. The three surprise chefs are all experts at one of the three cuisines.
Ariel's Chinese dish is deemed just ok. Kevin makes it all the way to his presentation before realizing he forgot to add the mole sauce for his Mexican inspired dish, but it fares pretty well anyway. Dave was assigned Indian food, which he had never made before ever, and wasn't even sure which kind of meat would be appropriate. He chose pork in the end, which he was informed wasn't the best choice, but other than that he did a fantastic job and he takes the win. Each of the chef judges makes him a dish for the three course lunch he gets to share with his sister and his fiancee right there in Hell's Kitchen.
That night at dinner each chef gets to take a turn commanding the kitchen. Kevin goes first and takes control quickly, even though it seems like he might be a bit persnickety, especially about everything Ariel cooks. This slows them down, but he does catch the sabatoged food that Chef Scott tries to get past him. Dave takes over and becomes super-aggressive, to the surprise of the others. He doesn't do as well at finding the dishes that had been tampered with. Ariel takes over last, catching one of the tricky dishes but not the other. Kevin claims she confused the kitchen, but Chef Ramsey compliments her on running the pass quite effectively.
After dinner they each have to chose one of the others to eliminate, and the men both choose Ariel. Gordon agrees. After saying goodbye, and letting her keep her jacket, Kevin and Dave are whisked off to a hotel rooftop in Downtown Los Angeles where there is a huge crowd cheering. Included in there are five judges for whom they will make dishes in this final challenge. Dave goes with a simple venison on parsnip puree, while Kevin chooses a complicated albeit beautiful lobster dish. Dave's cuisine reigns supreme. Oops, wrong show.
One change from previous seasons is that the finalists no longer have to design their own restaurant. And it's about time, really. They just need to focus on their menu. Dave's will consist of hearty yet simple meals that he feels are inspired by the cuisine of Whistler. Kevin wants to show Chef Ramsey that he is creative, so his dishes are much more complicated and showy.
Six former contestants arrive for the final service and are divided up into two teams. Dave takes Ariel, Robert and Suzanne. Kevin chooses Van, Amanda and Sabrina. Both teams encounter problems that slow them down at various times throughout the night, but ultimately they finish pretty much at the same time.
In Gordon's office, he tells them this is the closest result in the history of Hell's Kitchen. When he tells the two talented chefs to open their doors, it is Dave that walks through as the winner. He is tearful and emotional at the win.
Feel this is lacking a few details? Well, that's because this is the mini-recap, silly! Come back tomorrow for the blow-by-blow of these two episodes.
Tell us what's wrong with this post? How could we improve it? :)
Let us improve this post!