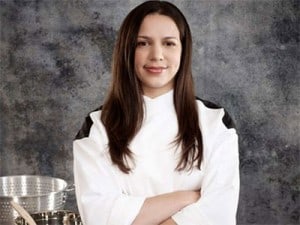 Last night on Hell's Kitchen, audiences watched as finalists Justin and Christina battled it out in a fight to the finish at their final dinner service. With their fate somewhat in the hands of their teams, which were composed of eliminated Hell's Kitchen contestants, it seemed like it could be anybody's game. In the end, however, passion won out over palette, with the big win going to Christina.
I had the opportunity to speak with Christina about her Hell's Kitchen experience and how she feels about her new role as head chef at Gordon Ramsay Steak and one thing is for certain; her passion certainly does shine through. The chef, whom the people on the Hell's Kitchen set called "The Senator" due to her fair attitude and refusal not to talk badly about the other contestants, shared that the magnitude of it all has not quite sunk in yet, but she is very excited to get started on her new adventure.
Although she stood out early in the competition as a front runner even having scored the winning point in the initial signature dish challenge, the ever candid Christina was sure to point out that she had a "few hitches" along the way as well, naming the Mexican dish challenge specifically as one of her more disappointing moments in the competition. Despite the few pitfalls she had, there was far more positive to talk about than negative including one her favorite moments, when she earned a three star score from Michelin starred executive chef, Anita Lo.
When it came to choosing her team for her final dinner service, Christina says she has no regrets. Her decision to pick Robyn over Clemenza as her final choice was strategic and calculated. Having observed Clemenza's ability to move quickly and efficiently over the last few dinner services, she decided to go with Robyn because she felt that, although there had been some issues in the past with drama, Robyn was "hungry" for redemption and that she would work hard as part of her team. As for her friend Dana, who seemed to struggle during the final dinner service, Christina explained that she had "buried" Dana's station with challenging items because she knew she could count on her. Despite Chef Ramsay's recommendation that she consider removing Dana from her station, Christina remained confident in her friend and it paid off in the end.
One thing Christina couldn't say enough about was what a great mentor Chef Ramsay was to her and all the contestants throughout the competition. According to Christina, Chef Ramsay has both a very serious side, which is what viewers mostly see on the show, and a "cheeky sense of humor" that she is glad the contestants get to see a bit of privately away from the audience. Despite the angry rants on Hell's Kitchen that he has become known for, she shared that Chef Ramsay is "amazing to be around and he just makes you want to be better all the time."
Tomorrow Christina heads to Las Vegas to start the transition process and she feels that Hell's Kitchen has gone a long way to prepare her for this important role. One of the biggest nuggets of wisdom she took from the entire of experience she says, is to have "high standards and be consistent with them." Fans of Christina can look forward to seeing her stepping into her new position at the restaurant most likely in October once she is settled in. Just don't plan to head to Gordon Ramsay Steak and ask for a well done filet from head chef Wilson, as this is a bit of a pet peeve of hers since she feels it takes away from the flavor and overall quality of the dish.
Before she had to go, Christina shared with me a bit of advice for aspiring chefs who are trying to find their way. Although it might not always be the highest paying job, she says try to make a point to always go out to eat and stay on top of food trends. She also pointed out that it is important not to take constructive criticism personally because it is meant to help you. Lastly, she noted that you must stay passionate about your cooking, a bit of wisdom she took from her grandmother who always told her "If you love what you are doing, you will do it well."