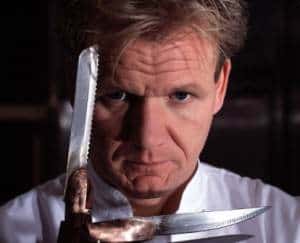 Welcome to the mini-recap of Hell's Kitchen Episodes 6×10 and 6×11. This is just a taste of the goings-on, and a fully detailed pair of recaps will be here tomorrow.
Thanks to the More To Love finale hogging all the airtime last week there are two episodes of Hell's Kitchen shown back-to-back this week. In Hour One, Suzanne needs to try to find a way to work with the Blue Team, to which she was switched at the end of the last episode. The Red Team, now that their scapegoat has moved on, choose Sabrina to take her place. The first challenge, delivered to them via 'live'(yeah, sure) feed from outside the Araxi Restaurant by Chef himself, is to create three entrees out of fifteen ingredients that would be considered local to the Whistler, British Columbia area. Including a cut of meat that Tennille and Ariel don't quite identify correctly. Too bad they refuse to listen to Sabrina. The judges for this challenge are Olympic medalists, Sasha Cohen and Jonny Mosely who declare the Blue Team victorious. The winners get a nice lunch prepared for them by renowned chef Mark Peel at his beautiful restaurant, Campanile. The Red Team get to clean out pig stys in order to learn more about local ingredients. No, really.
That night the two teams get to create their own menus. It goes way too poorly for this far along in the competition. Also, perennial patient Dave hurts his arm yet again and for a while it seems like he may be out for good. Chef Ramsey ends up shutting down service since most of the contestants insist of screwing up repeatedly. At elimination both teams must choose a player, deciding in the end on Van and Sabrina. Chef eliminates Sabrina, saying she needs to 'get those red lips and whistle on out of here,'because apparently she had makeup on for the first five minutes of the first episode and he's decided to focus on that as her sum total even after all these weeks.
In Hour Two the six remaining contestants are presented with their black jackets and they must now work together as one team. They arrive in the kitchen for their first individual challenge, which is the wildly popular (at least with me) 'Taste It, Now Make It.'They are paired up into three teams of two and presented with one of Chef Ramsey's signature dishes. The teams are Van and Ariel, Dave and Suzanne, and Kevin and Tennille. The twosomes must recreate the dish using just the look and taste of it to guide them. In the end Dave and Suzanne are the only ones to identify the citrus juice in the sauce and they win a lunch with previous Hell's Kitchen winner Christine at Gordon's LA restaurant, The London West Hollywood. The losing pairs get to stay behind at the restaurant and change the dining room over to a 'couple's night'theme.
At dinner, things go from bad to worse: between raw fish, sweat in the food and burnt lettuce, Chef practically has a breakdown and actually walks out of the building. The stunned Black Team is left to do their jobs as well as Gordon's. Despite Suzanne flatly refusing to help with the plating some of the players cowboy up and get the kitchen moving. When Chef comes back he throws Van, Ariel and Suzanne out, leaving the service to be completed by Kevin, Dave and Tennille. These three are then instructed to choose two out of the three ejected players for elimination. There is some disagreement about who was the worst of the worst, and Chef calls all three up anyway, so again, why bother actually narrowing it down to two? Chef ultimately sends Van home. Tune in tomorrow to get more of the somewhat bizarre and amusing details of the continuing adventures of professional cooks who can't always, for some reason, cook.