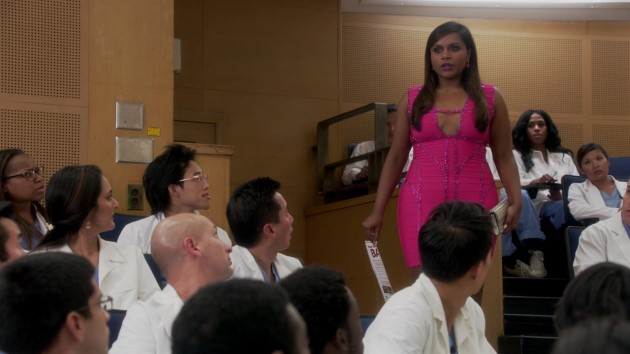 After Mindy accepted a Stanford fellowship in the winter finale, I was wondering how they would balance her storylines with the rest of the office in New York. We have nothing to fear if this episode was any indication for the back half of the season. Apart from missing those hilariously tender Mindy/Morgan moments, it's as though nothing has changed.
With Danny still out in California helping Mindy get situated, Morgan's taking control of the office's basketball team for the hospital tournament. Tamra's absence from the Christmas episode was finally explained: Habitat for Humanity trip because that's so in character, right? Anyway, she's so jealous that Morgan already moved on to find a new girlfriend, Jessica. Or as Tamra calls her, "Jerrsica." Haha! The bitter rivalry between the "Morgan's Best Friends" and "Morgan's Worst Nightmare" would have been enough to fill an entire episode.
Mindy's storylines were vastly different, but not in a bad way. Between the awkward mishap under the table at dinner with Dr. Gugler and his wife (guest star Ana Gasteyer) and the introduction of another probable recurring character, Neepa, there's a lot to talk about. First off, it was great to see Gasteyer even if she was knowingly rubbing Danny in all the wrong places. Something tells me that'll be the last double date the four of them go on!
Then there was Neepa, another doctor in the fellowship program. She's a first generation Indian woman and mother, raising her son here in America while her husband has to stay in India. Mindy respects her colleague even more after she sees that Neepa also works a part time job at a drive thru just to be able to support her family. In a sign of unexpected maturity, Mindy calls out her professor on his preferential treatment.
I'm proud of Mindy for recognizing what was fair, but I do think it'll be interesting to see how the rest of her fellowship goes! What about you? Did you enjoy this episode or do you miss having the whole gang together in New York?
[Photo via FOX]