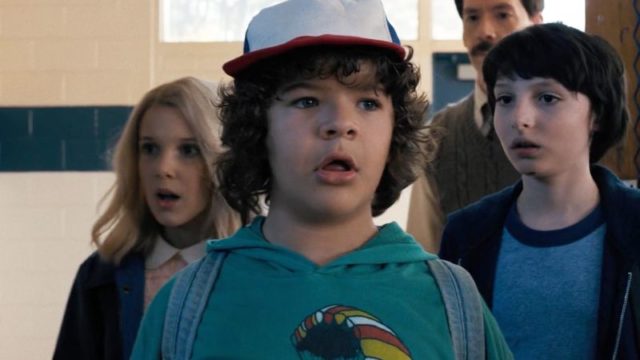 When it comes to random mash-ups, it doesn't get much better than the duet sung by "American Idol" superstar Kelly Clarkson, and up-and-coming actor Gaten Matarazzo from "Stranger Things." Many people were surprised to hear the "pipes" on this young actor and amazed by the amazing sounds the duo were able to create when singing alongside one another.
What Created the Opportunity for a Duet in the First Place?
The duet was a part of the 2017's WE Day promotional video. For those who aren't aware of the charity, WE Day works to host a string of various charitable events throughout the United States and Canada that features both musical events and speakers. It is a Canadian charity and the entire concept of WE Day is to empower the nation's youth to take action and make a positive change in the world. This year, 2017, represents the first year that Matarazzo had the opportunity to participate; however, it is considered a natural fit thanks to the actor's charitable efforts with his own organization, CCD Smiles.
The Point of the Video
The promotional video created for WE Day was created to promote the WE Day Toronto 2017 event, which is coming up soon. While the event was hosted and performed approximately two months ago, it isn't set to be released just yet. The promotional video was recently posted on YouTube and through various social media channels, where it can still be seen and has been getting quite a bit of attention.
The Singing: What Can You Expect to Hear?
Their time singing occurred in a golf cart and during the ride, several tunes were sung. Matarazzo and Clarkson started things by singing the classic song from Sister Sledge, "We are Family." Many critics and fans alike have stated that the two sound great together and that it is like they have worked together for years. Even with the age difference, it doesn't stop them from sounding as though they belong together.
They also attempted "We Are the Champions," though Matarazzo did not know all the words to this classic.
Matarazzo's No Stranger to Showing Off His Voice
Many "Stranger Things" fans were surprised to learn that this wasn't the first time that Matarazzo's amazing voice was heard or was able to capture the awe and amazement of the crowd. Before getting the role on the Netflix hit, the 15-year-old was seen on Broadway. He had parts in both Priscilla, Queen of the Desert, and Les Misérables. After that performance, many fans are calling for Matarazzo and Clarkson to collaborate again in the near future.
So, does this mean that Matarazzo is going to have an amazing singing part with the next season of "Stranger Things?" Probably not — but many fans are asking to hear more of his great voice. Who knows, maybe in the near future Clarkson and Matarazzo will get together and collaborate once again — perhaps for a holiday album? All you can do is wait and see — and of course, if you haven't checked out the video of the singing, that's something you should do right away.
Tell us what's wrong with this post? How could we improve it? :)
Let us improve this post!