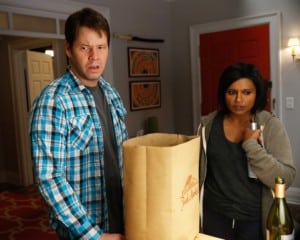 After watching the latest episode of The Mindy Project entitled, "Magic Morgan," I have come to the conclusion that I have a crush on Mindy Kaling. She is hilarious, pretty, and able to poke fun at her own insecurities. After being a secondary character on The Office for 8 seasons, she is finally able to shine on this sitcom. Mindy, if you are reading this and need a date for a swanky Hollywood party, I am available.
The episode begins with Mindy (Kaling) mourning the breakup with Casey (Anders Holm). We see her crying in bed, bawling while ordering take out, and wiping tears away as she proceeds to throw away anything that will make her remember Casey. Mindy finally is able to return to work where she tramples over dozens of boxes lining the front stoop. She hurriedly goes to the lawyer's office of Cliff (It's Always Sunny in Philadelphia's Glenn Howerton) and threatens to sue him. He thinks she is a crazy homeless person and she says she looks more like "Kiera Knightly running errands." Frankly, both are correct in their assumptions. This would never have happened to Mindy if the office granted "heart-ache days."
Morgan (Ike Barinholz) notices Mindy is down. He informs her that whenever any woman sleeps with him, they will fall in love with someone else almost immediately. By this time, Mindy is drunk and decides that in order to get over Casey she must sleep with Morgan. She tells Morgan to wait for her in bed, to which he responds, "I've never done it in a bed before." While brushing her teeth, she realizes she has made a mistake. She leaves the bathroom to tell Morgan, who is already naked in bed waiting for her. When she rejects him, Morgan quickly vacates the apartment.
The next morning, Mindy receives a phone call from Lawyer Cliff. She assumes he wants to ask her out on a date. Instead, he is notifying her that Morgan has filed a harassment suit against her. Morgan is asking for $200,000, to which Mindy responds she should get $2 million for having to see his butt crack. Morgan agrees to drop the suit if Mindy takes him out on a real date. She unwillingly agrees.
Mindy and Morgan go to dinner and then he whisks her away to the quarry. He admits sneaking off to there after a bad breakup and confesses he has been dumped 36 times, left at the altar 3 times, and has had 2 women fake their own death in order to not be with him anymore. He claims screaming in the quarry and hearing your voice echo is very soothing. Mindy tries it and is surprised that it actually works. She gives Morgan a friendly smooch on the cheek as a thank-you, to which he seriously asks if she has brought any protection. Barinholz is a writer for this show and always makes sure that Morgan gets plenty of funny lines. So far, he has not disappointed. I have been a fan of him since his Mad TV days.
Danny (Chris Messina) and Jeremy (Ed Weeks) spent their screen time playing second-fiddle to Dr. Peter (Adam Palley). Dr. Peter reminds me a lot of Pally's character from Happy Endings. Since I was devastated by the cancellation of Happy Endings, I was thrilled that the character of Max is still around in some aspect. For any other Happy Endings fans put there, Damon Wayans Jr. will be back on New Girl and Eliza Coupe will be guest-starring on the CBS comedy The Millers.
The secondary characters on this show: Betsy (Zoe Jarmen), Beverly (BethGrant), and Tamra (Xosha Roquemore) are amazing. They may only have one or two lines an episode, but it is something that always delivers a lot of laughs. It took a whole season to find a group of minor characters that mesh well together and they have found it with these three ladies. I am hoping for bigger stories for all three as the season progresses.