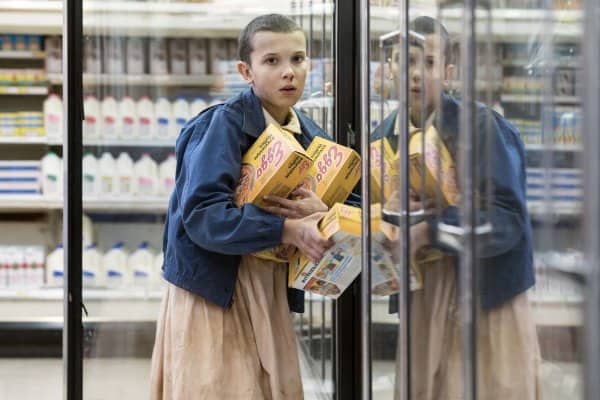 That was awesome, just awesome, amazing, and….wow. No joke, that was something special. I had no idea that Millie Bobby Brown could do anything like that, and just watching put a huge smile on my face. Watching her bust out a rhyme while talking about the recap of season 1 of Stranger Things actually made my respect for this young woman, which was already at what I thought of as peak level, shoot right through the roof. At least you can guess that if she wants to she could go into a pretty convincing career in rap later on in life if she keeps up this kind of practice.
One word comes to mind when I see this: fearless. This young woman gets up on stage and has absolutely no stage fright, no jitters. She just steps up and lays it down as though she's been doing it for years on end, performing for a crowd that already loves her and would likely listen to just about anything she says. It's awesome to see that the cast of Stranger Things, at least a few of them, have something else going for them as well as their iconic roles. I can even recall Finn Wolfhard going on Lip Sync Battle to perform a Weezer song and he did pretty good to be honest.
But this is just wow. I mean it, wow as in where did that come from? Millie Bobby Brown has got some serious skills on the mic and she revels in it. The mic drop at the end was equally awesome and made the point loud and clear that she knows what she's doing and why she's here. There's no denying this young woman anything as she struts her stuff and lets people know that she's able to get down and let it rip. I mean really, after watching her as Eleven, then Jane, in these past two seasons did you ever think that she could do something like this? The character of Eleven/Jane isn't anywhere near this confident to begin with. She's not even half this bold or brave until near the end of the second season, when it's all or nothing.
But the actress, huh boy is she up for it. She didn't even hesitate when Fallon mentioned her being able to rap, she was ready to get up and get at it. That's the kind of nerve it takes in Hollywood to succeed it would seem, the fire that sparks at a moment's notice and doesn't quit until the actor indicates that they're good and ready. I am full on impressed with this young woman even more so than before, and will enjoy continuing to watch her in whatever role she decides to pursue from this point on. Her style of acting and her passion for the craft is simply amazing, and if she decides to lay down another rap I think I'll be more than willing to listen.
Millie Bobby Brown is an awesome and amazing young woman. 'Nuff said. (mic drop).