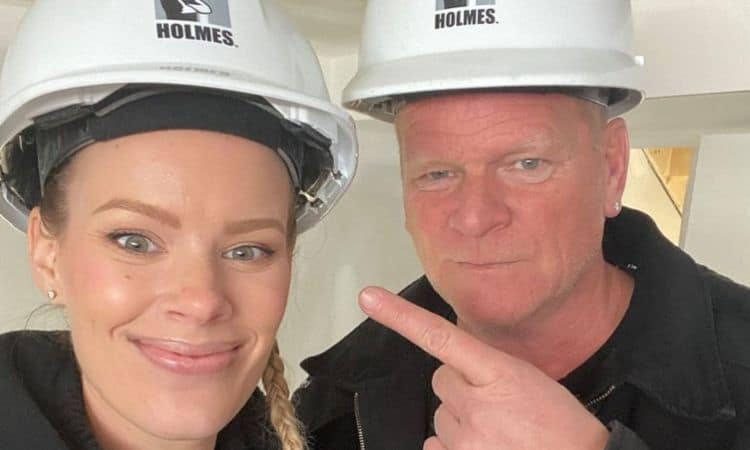 Everyone knows Mike Holmes. Holmes on Homes? He's a television host and a contractor, and a man who has been in the public eye for quite some time due to the nature of his work. However, he's also a man who doesn't share too much about his own life with the rest of the world. He keeps largely to himself. He does things on his own, and he makes it very easy for people to become more and more curious about him by the day. He's a man worth getting to know, and we have some fun facts right here for your viewing pleasure.
1. He's In His 50s
Mike Holmes is going to turn 58 in 2021. He's a man who was born and raised in the 60s with an official date of birth of August 3, 1963. He was born in a small town called Halton Hills, which is found in Ontario. He's a born and raised Canadian.
2. He's Always Known Construction
He was only six when his father began teaching him the craft. His dad was also in the construction business, and he taught his son everything he knew. At the tender age of six, he was already in the middle of doing things that most adults cannot do to this day. It's a good age to start learning the ropes, though.
3. He's A Young Entrepreneur
Holmes was only 19 when he began his first contracting crew. He employed 13 people on the crew, and it wasn't long before he had bigger dreams. By the age of 21, he founded his own company that began working on renovations. He would go into properties in need of help, and he would help them. He did all he could, and it worked out well for them.
4. He Founded a Foundation
In 2006, Holmes was invited into a home that needed to be renovated. It had already been renovated by someone else, but the work was so poorly done and shoddy that he had to tear down the entire home and rebuild it. The knowledge that there are people who do such poor work out there and leave homeowners without any money and no hope of a livable home afterward caused him to found something called The Holmes Foundation to help those in need of major renovations.
5. He Married Young
Around the time he started his first contracting crew, he was 19. He was ready to make a successful life for himself. He asked his lady love to marry him, and he and Alexandra Lorex were married. It was 1982. Together, they have three kids. Their kids are Amanda, Sherry, and his own namesake, Mike Jr. Unfortunately, his marriage ended in divorce. The recession that occurred in the 90s was a bad one, and it caused a lot of financial trouble in his life. His marriage did not survive this.
6. He's Close to His Kids
Even though he and their mother divorced when they were young, he's always been close to his kids. He is not the takeoff and sees them every other weekend or so kind of guy. He maintained a very good relationship, a close one, with each. They are often on his show, and they are clearly very close.
7. The 90s Were Tough on Him
The 90s were a hard decade for Mike Holmes. He was unable to keep his marriage alive. Both of his parents passed away. His business was on the verge of failing completely because of the economic impacts of the recession, and he was barely holding on. That's when he met Anna Zappia. The two became very close, started dating, and she helped him find hope in life again. There's no official record we can find that they are married, but Holmes does call her his wife. Either way, they seem very happy together.
8. He Has Two Siblings
His parents had three kids, and Mike happens to be the middle child. He has a sister who is older, and he has a brother who is a little younger. He grew up always interested in finding a way to make things work for himself, including taking the toys he had and deconstructing them so he could put them back together. It was a gift that his parents recognized from an early age.
9. He's a School Drop Out
When he was growing up, he didn't want to go into the corporate world. He didn't want to go to college and get a degree in something he wasn't interested in doing. He wanted to go to work. That was all right with his dad. His father supported his decision to drop out and pursue his career in construction by starting his own crew when he was 19.
10. He's A Private Guy
Mike Holmes might be a very public figure, but he likes to keep his life as private as possible. He doesn't discuss a lot that has to do with his family, but he's always happy to talk about how close they are and how proud he is.
Tell us what's wrong with this post? How could we improve it? :)
Let us improve this post!