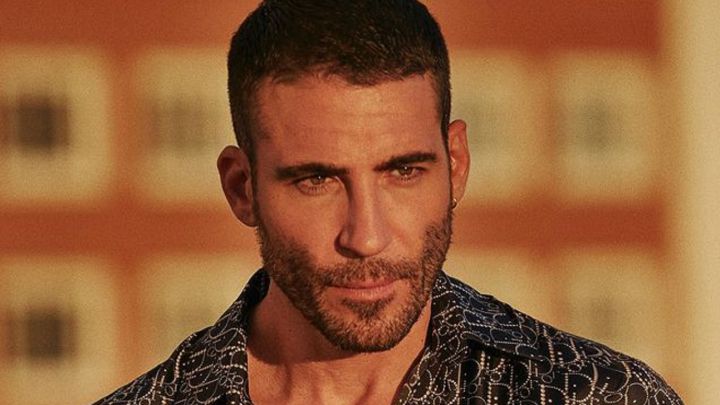 Miguel Ángel Silvestre has been working extremely hard for the last several years, and he has become well-known in his home country of Spain. His ability to take on diverse and complex characters has earned him endless amounts of respect. Now he is getting ready to break onto the international scene thanks to his role in the new Netflix series Sky Rojo. The Spanish-language series has been released to countries all over the world and Miguel's performance is already getting a lot of praise. Although he has already accomplished a lot, this role could take his career to new heights. Keep reading for 10 things you didn't know about Miguel Ángel Silvestre.
1. His Dream Was To Become A Professional Tennis Player
Miguel isn't someone who always aspired to become an actor. Instead, his focus was on sports and he was a very talented athlete. His dream was to become a professional tennis player. Unfortunately, however, his tennis career ended after he suffered an injury during a tennis tournament.
2. He Has Formal Acting Training
After Miguel's tennis career ended, Miguel still didn't have his sights set on acting. However, his aunt, who is a theater director, introduced him to acting and it didn't take him long to fall in love with the craft. He ultimately decided that he wanted to study theater. It's unclear which school he attended.
3. Sky Rojo Isn't His First Time Working With Netflix
Netflix has become so popular over the last several years that working with the streaming giant would be a dream come true for any actor. Miguel's work in Sky Rojo isn't the first time that he's gotten the chance to do a project with the platform. He was also in the English-language series Sense8.
4. Family Is Very Important To Him
For the most part, Miguel has always been pretty quiet about his personal life but one thing he's made clear is that he's all about family. He comes from a very close-knit family and his loved ones have served as a support system to him throughout his career. It doesn't appear that he has any children but he has great relationships with his nieces and nephews.
5. He Is Passionate About Human Rights
Miguel is the kind of actor who wants to do more with his celebrity status than just keep people entertained. He is also very interested in raising awareness for the causes that are close to his heart. He is a strong supporter of LGBTQ rights and anti-racism.
6. He Loves To Work Out
Being camera ready at all times is a must for an actor like Miguel. Even though his days as a competitive athlete are over, Miguel still likes to stay as active as possible. He spends a lot of time working out and boxing is one of his favorite ways to stay fit. Of course, he still likes to get out and hit the tennis court whenever he can.
7. There Are Some Hollywood Stars He Would Love To Work With
Most of Miguel's work has been on Spanish projects, but one day he would love to cross over into Hollywood and he already has a few people in mind that he would love to work with. At the top of his list are award-winning actresses Meryl Streep and Jennifer Lawrence.
8. He Has A Large Social Media Following
These days having a large social media following is about more than just being popular. Having an engaged audience online can lead to real-world business opportunities. Miguel currently has 3.5 million followers on Instagram alone and that number is probably going to increase as Sky Rojo continues to get attention.
9. He Is Very Adventurous
Miguel enjoys trying new things and he's never been one to shy away from a good adrenaline rush. He enjoys spending time outdoors and he's always looking for his next adventure. Some of his favorite things to do include surfing, hiking, rock climbing, and golfing. He also loves to travel and has gotten the chance to visit different parts of the world. Miguel's adventurous nature has also been an asset to his acting career because it's allowed him to try new things and step out of his comfort zone.
10. He Studied Physiotherapy
Acting isn't the only thing that Miguel has studied. He originally went to university to study physiotherapy and while there he got introduced to acting. Although the path Miguel ended up taking is very from the one he originally saw himself on, it's probably safe to say that he's very happy with the way things turned out.