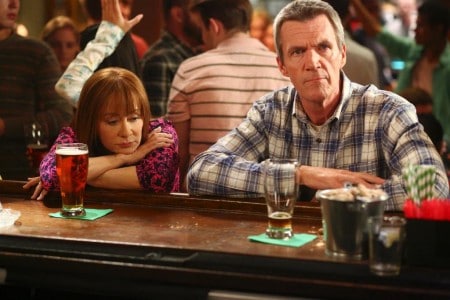 Will Smith once famously rapped of the woes of being a misunderstood youth, and on this new episode of The Middle, we got a shift in that perspective from the parents' point of view. Frankie and Mike start to see new sides of Sue and Axl emerging as both kids make some changes in their lives.
Sue only just got appropriately introduced to Jeremy the tree-hugging activist on campus last week, yet she's already considering him a new beau. Call it what you will, but this is not an everlasting love she has with him. She's already toning down her naturally sunny demeanor so much so that her mom calls her out on it. Frankie is 100% in the right here to point out that Sue doesn't have to act or think a certain way just because of her new boyfriend. People aren't chameleons and shouldn't completely lose themselves for a significant other. I was happy to see Frankie's message got through to Sue by the end, even if it means Sue's headed for a mental breakdown being so conflicted between caring too much about too many things. At least she'll have her mom and family there to keep her grounded if and when she gets carried away again.
Axl desperately wants to quit football and Mike is not hearing it. For starters, his football scholarship is what's getting Axl through college debt-free so he should really be smart before making any rash decisions. Surprisingly, he does his research on getting loans to pay for his last year of school and ultimately realizes he has to stick with football anyway. Honestly, Axl should be lucky he's not dropped from the team and forced to lose his scholarship. It doesn't sound like he's a valued player at all with the intimidatingly large freshmen taking over the team.
Frankie and Mike drink their sorrows away at a college bar on a ten cent beer night. With a purse full of change, who can blame them? Their drunken conversation back in Axl's Winnebago reveals their true feelings about their kids. Truth is, they're growing up and they can do whatever they want. I feel like this message is going to keep taking them by surprise and soon they need to embrace it. Mike actually got me a little teary eyed when he told Frankie of his happiest moments in life: those times when the kids were younger and in the backseat of the car, and he'd be driving everyone because then he knew everything was okay. He was in control and now he's so obviously not. Breaks my heart a little to realize all parents feel that way one day.
Brick was left home but far too occupied with an online customer service survey to really worry about where his parents were. It was very cute to see him take something so seriously that he called to resign from the responsibilities of a survey taker!
What did you think of the episode?
Tell us what's wrong with this post? How could we improve it? :)
Let us improve this post!