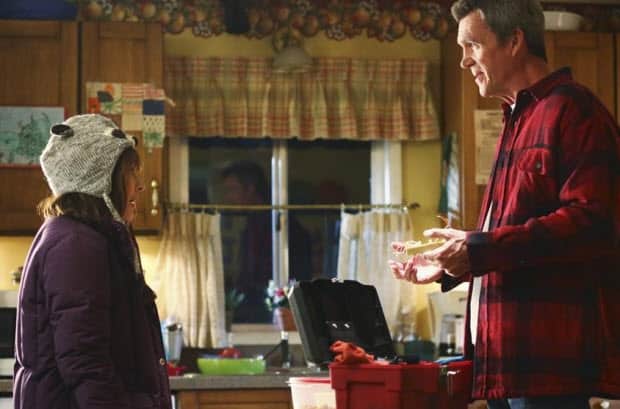 This was another memorable episode of The Middle. No matter what Sue tries, she will never get the recognition she so desperately craves. On the other hand, Mike is being honored with an award for a big anniversary at work and he doesn't want to even acknowledge that. These differences between father and daughter couldn't be more obvious, but they balance each other out in their family.
Mike only gives in to Frankie's constant begging to attend the award presentation and dinner. I think many of us can relate to Mike in this sense. He strives for mediocrity, and doesn't want any more attention than is absolutely necessary. When Brick asks him what he did to deserve an award, he simply shrugs it off by saying he just showed up for 20 years. Even when he is delivering his acceptance speech, he can't muster up the more emotional response he gave with Frankie when she was attempting to help him write it. Instead he offers a grim remark that they're all really lucky in the current economy to even have jobs.
Meanwhile, Brick is horrified and embarrassed to witness a woman wearing the same suit that he was so proud to sport after receiving it in a hand-me-down box of clothes. Earlier in the series, Sue and Brick got more clothes from cousins that were never fully explained. Over the course of the series thus far, we've only seen that Frankie and Mike each have one sibling, and only one of those (Molly Shannon's guest starring character as Frankie's sister) has a child. I was happy when we finally got some answers tonight when Brick asked how exactly they're related to these cousins when he's trying on clothes straight from the 1980s. Frankie answers that they're on Mike's side of the family, but as far we know, his brother Rusty (played by Norm MacDonald) doesn't have children so they must be second cousins. I don't know about you, but I always remember these minor loose threads even in sitcoms, and this one had been bugging me.
Poor Sue still can't catch a break. She's literally sat on in a classroom by some dumb jock that just didn't see her. That's a new low, even for Sue! As the leader of a club meant to empower students to socialize with others outside of their normal social circles, she starts a new "mix it up Monday" trend in the cafeteria where students are forced to sit with people other than their normal group of friends. This plan backfires when everyone, including her best friends Brad and Carly, end up making new friends but Sue is still virtually invisible and ignored by the cheerleaders and jocks.
We shouldn't feel too bad for Sue though, as she's still as optimistic as ever. It was especially cute when she and Darrin reconnected when he came over to fix the Hecks' AC unit. Darrin had witnessed Sue and Derek Glossner making out a few episodes ago, so he assumed he was her boyfriend but when she set that record straight you could tell Darrin is still into Sue. I loved their relationship last year, so this will be fun to watch them get back together now.
Sue and Darrin weren't the only lovebirds reconnecting this week. Axl woke up to a drunken voicemail from a blocked number, but I really don't understand how he didn't recognize that it was Cassidy, his ex-girlfriend. Even I instantly recognized her voice, but he searches all across the campus to find this mysterious voice trademarked by an identifying mispronunciation of the word "orange". When she finally calls him back to apologize for the message, it's clear that Axl was glad to hear from her.
Overall, it was a great episode. It's not often that Mike gets a storyline all of his own, so it was even a treat to see his employees. I suppose it's natural for every parent to focus on their kids' lives as opposed to their own, but I hope we see more important storylines for Frankie and Mike in the future.
[Photo via Michael Ansell/ABC]