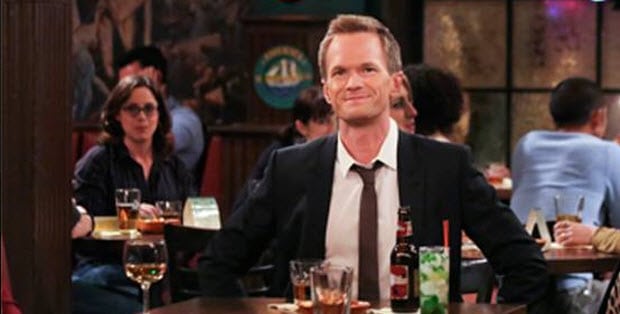 It is now 25 hours until Barney (Neil Patrick Harris) and Robin (Cobie Smulders) say "I do." If you are like me, you are growing a little weary of all the wedding mishaps that are happening in Farhampton. The people at How I Met Your Mother figured we were growing wedding story weary and presented us with the latest episode, "Bedtime Stories."
Marshall (Jason Segel) has parted ways with Daphne (Sherri Shepherd) and is now in transit via bus with young son Marvin. In order to get the young boy to fall asleep, Marshall has decided to tell him three different stories about his best friends. It would not be a good bedtime story if it wasn't done in rhyme. It was almost like reading a Dr. Suess book. Even so, I enjoyed every minute of it.
Marshall has misplaced the rhyme book that he and Lily (Alyson Hannigan) use to put baby Marvin to sleep every night. This is why he must resort to telling his own tales. The first story is called, "Mosby at Bat." and stars our favorite guy searching for love: Ted (Josh Radnor). A young woman named Lisa approaches Ted while he is hard at work in his office at the university. She wants some pointers on how to teach interesting lectures and asks Ted out to dinner. The whole time Ted is wondering if Lisa had asked him out as friends or as a date. While conversing over wine, Lisa spills that she once dated a played on the New York Yankees. It turns out it was Derek Jeter, who bares an uncanny resemblance to Barney. After finding this out, Ted ends the date.
Story number two is called, "Robin Takes the Cake." Robin was at a cake shop eating her feelings. She bumps into her ex, Simon (James Van der Beek). He looks a lot better since the last time the two crossed paths. Simon moved to New York and has just gotten engaged. Upon hearing this, Robin decides to do something very bad. She steals poor Simon's wedding cake and takes it to Ted's apartment. Ted orders her to take the cake back, but Robin begins eating it instead. By the time Lily shows up, the cake is half gone. Lily cheers Robin on and encourages her to eat the entire thing. As she devours the last bite, the crowd fears she is going to puke. Instead, Robin drinks an entire keg and then gets her stomach pumped.
Barney is the center of the third tale entitled, "Barney Stinson: Player King of New York City." The gang goes out for drinks and a young blonde walks into the bar. Lily assures Barney that the woman is out of his league. Then Barney tells a story within this story: how he became the Player King. He awakes one morning at a beautiful woman's apartment. It turns out it is Lisa from Ted's story. After he makes his escape, he is picked up by a car and escorted to The High Counsel of Players. Apparently, he bedded a woman outside of his territory. The members of the counsel (All Barney) are furious. Barney must grant the men he did wrong two women from his territory. Instead, Barney presents a counter offer:a glass of champagne filled with poison. The entire council has died and Barney is now the King. While he is telling the story, Ted decides to go over to the blonde woman and scores her phone number.
In the end, the bus Marshall and Marvin are riding breaks down. He is told the Farmhampton Inn is only a five mile walk. Instead of waiting for the bus to be towed, Marshall makes the decision to walk the rest of the way. My guess is it won't be as easy as it sounds. Thought we were not treated to a special "Slapsgiving" episode, I was very satisfied with the episode we got. Each week is bringing us one step closer to the end of How I Met Your Mother. The only problem is that I am not ready to say good-bye just yet.
[Photo via Facebook]