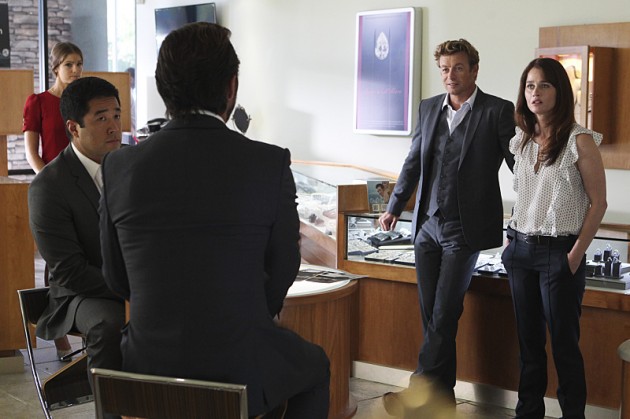 Okay, I confess, I was hoping to see Patrick Jane (Simon Baker) and Teresa Lisbon (Robin Tunney) in that jewelry store in the beginning of the fourth episode of the seventh season of The Mentalist instead of Kimball Cho (Tim Kang) and Teresa; however, I'd never expected Lisbon to want a big, fancy diamond ring, much less a pink one. If Patrick wasn't sick with a head cold, the stolen diamond investigation would've been right up his alley.
In the scene where Agent Abbott (Rockmond Dunbar) ordered Cho to bring Agent Vega (Josie Loren) back out into the field, I thought that it was the right call because Vega is inexperienced and at times over eager to show off her skills as an agent, but she can be sculpted through time. The thing that annoys me the most about her is her dismissive attitude towards Wiley (Joe Adler) because even though Wiley may come across as a bit eccentric, he's incredibly talented at what he does and his skills are invaluable to the team and to the FBI.
I hope that Agent Vega will realize that soon because all she could focus on was regaining Cho's trust, and she doesn't seem to understand that it wasn't like flipping on a switch. Cho even pointed out that apologizing for something is the easy part, earning back someone's trust is difficult and it wasn't going to happen in an instant because of some juvenile trust fall exercise that the young woman learned at Quantico.
Back to Agent Abbott, I wonder if we're ever going to find out exactly what happened on the Rio Bravo task force because aside from the fact that I sympathized with Abbott's dilemma, I was surprised that he tried to force the separation on Lena without telling her why. I know that he was trying to protect her and to ensure that she would get her dream job, but his method just seemed cruel on his part and it makes one wonder if his marriage with Lena will last. Let's all hope it does.
Finally, towards the end of the episode, we got to see Teresa Lisbon, psychic medium extraordinaire. Patrick Jane had faith that she could pull it off, and he was right, with a little help from the master of course. The part where Lisbon told Mary Kate that her dog Roger was speaking to her from beyond the grave because all of God's creatures can talk in the afterlife made me chuckle and agree at the same time because it's technically true. Just because you don't understand what the animals are saying, doesn't mean that they can't talk.
Throughout the entire episode, Patrick Jane looked so pathetically cute all wrapped up in that blanket curled up on his sofa. I was surprised to see him back in his Airstream at the very end. I had thought that he would take Lisbon up on her offer from earlier to stay at her place, though last season I never would have thought that I would hear those words spoken by these two characters because they were only co-workers and nothing more. Lisbon ended up at Jane's instead and the late-night conversation took a bit of an interesting turn when Jane asked if Lisbon wanted to just leave the FBI or if she wanted to spend the rest of her life working as an agent.
This comment is interesting because Jane still has all those murder charges hanging over his head, even if he decided to bolt and leave the FBI. Plus, Teresa Lisbon loves what she does, being an officer of the law is who she is. I mean, if Jane expects his Teresa to give up the job that she loves, then I think their future as a couple is looking kind of bleak.
What did you think of this episode of The Mentalist fellow Jisbon fans? Were these just random, nonsensical thoughts uttered by a bedridden man with a head cold, or does Teresa Lisbon have a reason to be worried about her and Patrick's relationship?
Photo via CBS