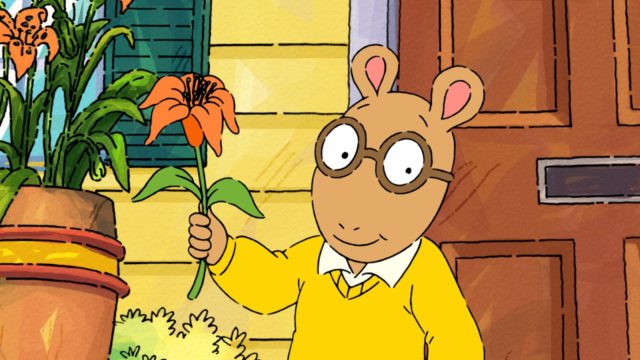 There were a number of media responses to the terrorist attacks that took place on 9/11. Many were very public in the sense that millions had a chance to see them. Some took place in baseball stadiums. Others were on television in the form of telethons and raising awareness. Late Night television offered their responses. The result was a humongous coming together of our nation to try and rebuild what we had lost.
If I had to characterize many of the responses of 9/11 I'd use the words "appropriate" and "adult." However, there was one children's show that I never knew had their own response to 9/11. Perhaps because it was called "April 9th" and aired in November of 2002. But if you look back, it was amazing.
Check out the full descriptions of the episode and the actual episode below:
Part 1:
It is April 9th, and things seem to be normal in Lakewood Elementary until a fire breaks out. The fire affects everyone in various ways – Sue Ellen is devastated when her diary which she had since the first grade is burned during the fire. Arthur becomes worried when his father was in the school during the fire which causes him to worry that something could happen to him in the future. Binky is traumatized because of witnessing the fire, and Mr. Morris, the school janitor, is injured during the fire. As a result of the fire damage, the Lakewood students are temporarily placed at Mighty Mountain Elementary. Buster who was not there boasts to the Mighty Mountain students about the fire, much to the chagrin of Arthur, who feels that his father could have been seriously injured. Later on, Buster's mother decides to have Buster give Mr. Morris flowers at the hospital, where Buster learns that Mr. Morris is also asthmatic as well as a lover of chocolate. That evening, Arthur has a nightmare related to his father's catering job at an aquarium. The next day, the Lakewood students tries to return to normal, until someone pulls the fire alarm.
Part 2:
The one who pulled the fire alarm turns out to be Binky who ends up having to write a confession and an apology to Mighty Mountain Elementary. Mr. Haney decides to have Binky do community service with Mr. Frensky who reveals to Binky that he used to be a volunteer firefighter. The day that Arthur's dad has the catering job at the aquarium, Arthur fakes being sick so he could stay, and when his father tries to ask about his recent behavior, Arthur admits that he has been extremely worried since the fire. Arthur's dad tells him that he was once overly concerned when his mother (Grandma Thora) got in a car accident, which made him worry every time she got in the car. He then teaches Arthur how to cope with his worrying. Lakewood reopens and the students return, but this causes Binky to panic, and it causes him to run from the school. He then meets up with Mr. Frensky who confesses to Binky that he was also shaken by his first fire as a firefighter, and teaches him that by talking to others, Binky can cope with his trauma. During the return to Mr. Ratburn's class, Buster learns that Mr. Morris is permanently retiring due to his injury and he is moving to New Mexico to live with his daughter. In the end, Sue Ellen writes down in the replacement journal Muffy got her that she never wants to experience something like this again. However, she learned an important lesson: If she and her friends stick together, they can overcome anything.
Save