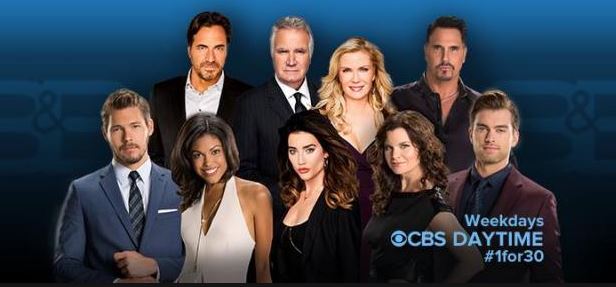 The Bold and the Beautiful fans have spent many years watching their favorite characters get into trouble, find a way out of trouble, and switch spouses like it's their day job. The people who star on this hit soap are very famous, but sometimes you forget that they aren't the only famous faces to come from this show. While many stay in the soap world forever, there have been more than a few very famous faces to grace your screen in the middle of the day over the years. Here are a few of the most famous faces to ever appear on the soap. Do you remember any of them?
Bob Barker
Remember when the infamous host of "The Price is Right," had a small part on the show? It might not be something you took much notice of because it was a while ago and it was a small part, but he had a great moment. It was 2014, and he got to punch Wyatt right in the face after he called him a rather unflattering name. It was a moment Barker said made him feel as if he still had it. It was hilarious, and we loved seeing him in the role even if it was only a short stint.
Betty White
Is there a chance she might be the most beloved and famous actress in Hollywood because she's so unexpectedly amazing at all times? We like to think so. Anyway, she was there in 2006 for a moment. She showed up s the estranged mother of Stephan and Pam, and she was there for a short period of time. She was 84 at the time, but she didn't do much more than shock her fans and make everyone really remember just how amazing she is when she finally decided to show up in the lives of her television daughters to see if they could reconcile.
Usher
He's only the most famous R&B singer and dancer ever in the history of our lives, and we all love him so much. He was on the show back in 1998 when he had a small role in the moment with a character called Amber. He slept with her, she got pregnant, and she was not sure if he was the father of her baby or if the baby belonged to Rick. The baby ended up being Rick's, but did not survive the birthing process.
Mario Lopez
Oh, AC Slater. We all love you so much, and we were more than a little excited when you showed up on the set and made our lives feel so much better in so many ways. He was the man who showed up to play the brother of Lorenzo Lama's brother. He was Dr. Christian Ramirez for a quick second back in 2006. He did a stellar job in the role, even if he still had that baby face of his back then. We loved him, and he did a wonderful job. Can we bring him back, please?
Charlton Heston
He's an icon in Hollywood. He's Charlton Heston, for crying out loud. He had a moment with Sally when he was the host of the Salute to Hollywood fashion show back in the 90s. It was actually the very early 90s if we are not mistake. It was sometime around 1993, and he was there to make sure that the fans got exactly what they wanted. He did a great job, and his guest appearance was one fans were so excited to see. Hollywood royalty on their favorite daytime drama? Everyone was on board with that.
Fabio
His long hair, his chiseled features; his fanbase. He had a moment on the show when he appeared at a party and made out with the friend of a bride-to-be. It was the moment when Sally was getting married and having her big party. He showed up at the party as a longtime friend of hers, and he shared a very open and romantic kiss with Darla. It might have been the greatest moment of her life, but that was back in 1993. It seems that was a big year for famous stars.
Tell us what's wrong with this post? How could we improve it? :)
Let us improve this post!