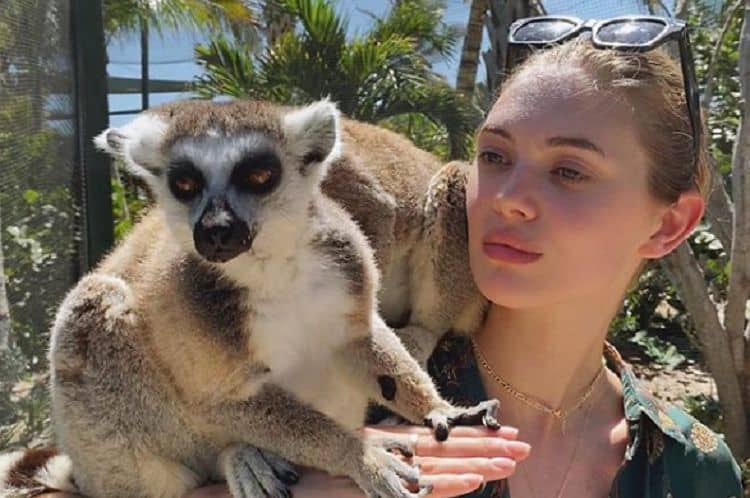 Megan Williams is from a little known island on the English Channel called Guernsey. She was used to living in a humble town until one day when her life took a turn for the better. She was only 14 at the time and even gave up playing the flute despite good at it, to concentrate on modeling. Today, she is a renowned model who made her career by working for GUESS, but now is Victoria's Secret model. Here are a few facts about her that you most likely did not know.
1. She is passionate about the environment
The model said that it is crucial to keep anything that can benefit us sustainable. She is, therefore, most passionate about the ocean and urged people to avoid throwing waste into the water since it affects wildlife. Megan is more than just offering advice; she is doing something about it because she revealed that she was launching her own product, which would help in reusing waste plastics. It is, therefore, no wonder that she co-hosted Ocean Sounds, which is committed to the conservation of marine life and the marine ecosystem.
2. She allegedly breached a contract in search for fame
Women Management claimed that Megan violated the agreement they had agreed upon in 2012 in a quest for fame. The agency said that they had signed Megan when she was barely known and had groomed her to become one of their most renowned models who secured jobs with prestigious labels like Ralph Lauren, GUESS, and Victoria's Secret. As per the suit by Women Management, in January 2017, Megan was given a ride on a private jet by The Lions Model Management executives. Consequently, she immediately dumped Women Management, yet the contract was supposed to go up to October 2017, according to New York Post. The plaintiff was seeking $500,000 in damages.
3. She enjoys working out
Megan does not have a hard time keeping her body in shape because she loves eating healthy and exercising. She confessed that staying fit is not a challenge but part of her everyday life. Therefore she walks around the city and does Pilates. If she has some time to work with a trainer, then she does. However, she does not punish herself by restricting so much of whatever goes into her body. Megan regularly eats Italian foods, and the only day she considers she has eaten a cheat meal is if it has lots of carbs since she has a sweet tooth.
4. She is charitable
Megan supports Nalu Foundation, which is dedicated to ensuring that children have a bright future by offering education opportunities. In summer 2018, the model went to India, where they visited a province in which children drop out after attaining the age of 12 when the government stops supporting them. Many children drop out since their families cannot afford to buy them school uniforms to keep them in school. The organization, therefore, donated school uniforms to different institutions.
5. What wins her over in a man
If you are planning on dating Megan, then you should know she likes a good conversationalist; otherwise, you will instantly bore her. However, even before you start talking, she will be looking at your mouth, hoping to see luscious lips and a great smile. Megan then looks at a man's nails, and if they are not well-maintained, then she will not give you the time of day. She prefers a confident person but not with an overbearing ego. If you manage to get her number, then instead of taking her out to dinner, cook for her, and later you can watch a movie. Finally, it would be best if you do not dare talk about your exes because she wants you to focus on her.
6. Her biggest fashion regret
Megan is beautiful and is probably the envy of most women, but she still has her bad days, and sometimes she looks back and regrets. For instance, some of the pictures she has from her previous shoots make her wonder what she was thinking at the time because, to her, they no longer look good. However, she comforts herself that when she was taking them, she felt good about how she looked.
7. She believes being a model is like being an athlete
According to her 21 questions with The Fashion Spot, Megan feels that most people associate modeling with an easy life. However, she refutes such opinions by saying that models work as hard as athletes do for the Olympics. She discloses that they have to undergo intense training and rigorous diets to ensure they look good during fashion shows. She opines that being picked to walk the Victoria's Secret Fashion Show is like joining the Olympic team.
8. Her traveling tip
As a model, Megan's skin matters in helping her to make a living; therefore, since she travels a lot, the best beauty advice she has ever received is to stay hydrated always. Consequently, on the plane, Megan drinks lots of water to help keep her skin fresh. She adds that even when she takes hot beverages, then she has to add some collagen powder to maintain skin elasticity, and she confessed that it works.
9. How she became a model
Never in her wildest dreams had Megan ever thought about becoming a model. However, destiny came calling when she was 14. She went to town for her weekly McDonald's burger, and one model scout approached her, telling Megan there was a hometown competition, and she could go if interested. Luckily, the competition was in the same town where Megan used to go for her burger; hence she tried her luck. Before she knew it, she was in London, and her modeling career had taken off.
10. How she became a Victoria's Secret Angel
When Megan was 18, she went to New York to meet with Victoria's Secret after they requested her, having watched her during the GUESS lingerie campaign. Unfortunately, the meeting was not successful; hence Megan went back home. However, she still wanted to be their model, so she began working with them online after moving to New York. Her efforts paid off, and in 2016, she did her first show with them in Paris.
Tell us what's wrong with this post? How could we improve it? :)
Let us improve this post!