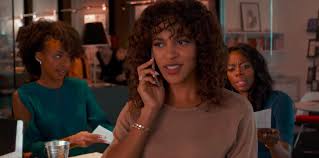 Megalyn Echikunwoke is one of those actors you either know or you don't. She's had an impressive career for having started back in the late 90s, and has appeared in a very big number of TV shows. She's also been in a modest number of movies and has done fairly well for herself. It's kind of difficult to know every single actor out there and remembering her by her last name might be easy for some and difficult for others. But rest assured she's someone that's been around for a while and knows how the business works and how to get what she needs in order to keep her career moving forward.
Here are a few things you probably didn't know about her.
10. She grew up on a Navajo Indian reservation.
Although she's not Navajo she did grow up on a reservation in Arizona. I don't know all that well if there are rules that say a person that's not of the tribe can't live on a reservation but it's something you don't hear about all the time. It doesn't seem like there was an issue.
9. She has quite a few hobbies.
She's a woman that likes to stay active and keep herself on the go all the time so it definitely takes a lot of energy to keep up with her. Singing is also one of her hobbies and she's wanting to make it into something more as she's been in movie where she sang all of her songs.
https://www.instagram.com/p/Bjq4vLbBx3d/?hl=en&taken-by=megalyn
8. Her last name is Nigerian.
Her last name translates out to 'leader of men' and is a very powerful name, which could be why it seems to fit her. She has a very forward personality and doesn't mince words when she doesn't have to. In many ways she's the kind of woman that will tell you to your face what she thinks and without any apologies.
7. She is dating Chris Rock.
She's been kind of off and on with this to be honest as people have asked her and she's denied it. Chris Rock has confirmed it, she's denied it, it's hard to know what's going on and what's really happening between them if anything. Why she would deny it if it's true is kind of odd, but then why Rock would say such a thing if it wasn't true is odd as well. So far what people seem to think is that they're together and that they've been an item for a little while.
6. She's not interested in playing boring characters.
Her strong and forthright style is just a little too much to play any low-key characters that aren't up to snuff or don't have the right feel for Meg. She definitely wants to play the more high-powered characters that get more attention and more hype. It also seems like she's not willing to compromise when it comes to this.
5. She is interested in doing a martial arts movie.
Her words actually were more inclined to a superhero movie or something like it. She got to play the role of a hero on Arrow at one point but had to bow out of the role when it was time to reprise it due to scheduling issues. But while she's still relatively young she'd love to take up the mantle of a hero or an adventurer and see how far she could ride it.
4. She had a role in CHiPs.
Not the original show obviously, but the remake with Dax Shepard and and Michael Pena. The movie just came out in 2017 and despite some rather poor reviews it was enjoyed by a lot of people that used to like the show. Sometimes you've just got to watch the movie for what it is and not what you want it to be. After all, the show was great for a while but then it got a little stale too.
3. She loves to travel.
She does love to get in a jet and just go wherever she can, traveling to exotic locales and one of a kind places that show the culture and wonder of the nation. In fact she's said that she would love nothing more than to take six months to just flying around the world visiting all the locations she would love to see.
2. She's inspired by strong women.
This is a very positive thing as it takes a strong woman to inspire another strong woman sometimes and it's very needed in this day and age. She's managed to take a lot of what she's learned from those role models that she's seen growing up and put it into her characters.
1. She's not big into planning.
Aside from a few things here and there she really isn't into planning as she likes to live in the moment and figure things out as she goes.
She's definitely one of a kind, perhaps we'll see more of her coming up soon.