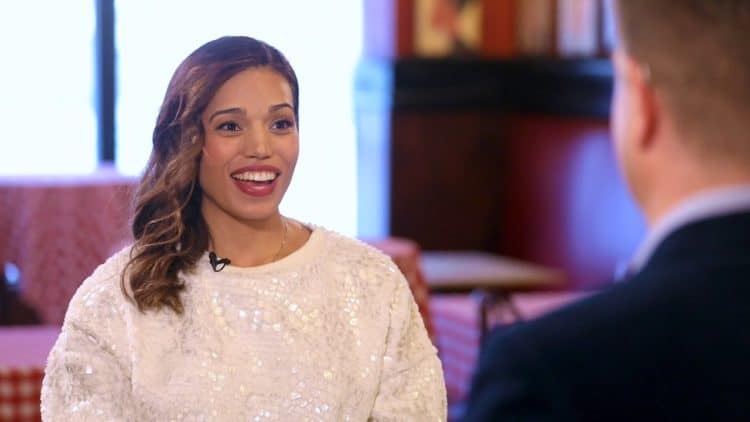 If you're a fan of 'DC's Legends of Tomorrow", you are probably familiar with Ciara Renée. After all, in her role as Kendra Saunders, AKA Hawkgirl, she was heavily featured during the show's first season as she and Hawkman finally managed to kill Vandal Savage, a quest that that was only 4,000 years in the making. Of course, in the season finale, she was seen flying off into the sunset, making it quite obvious she won't be seen nearly as much in the upcoming season. So, what is Ciara Renée up to now? For the answer to this question and several others, here are 5 things you didn't know about Ciara Renée.
You can find her on Broadway.
Ciara Renée has made quite a name for herself on Broadway, thanks to amazing performances in several productions. For example, she starred as The Witch in Big Fish, Esmeralda in The Hunchback of Notre Dame, and The Leading Lady in Pippin'. Most recently, she performed as Mary Magdalene in an off-Broadway production of Jesus Christ Superstar, for which she earned rave reviews. Here's a video of Ciarra performing "I Don't Know How to Love Him," so you can see for yourself just how talented she is.
She's a college graduate.
In 2013, Ciara earned a degree in musical theater from Baldwin Wallace University, a private liberal arts college in Berea, OH. It wasn't too long after her graduation that she appeared on Broadway.
In 2016, she started a production company, which she put on hold after being cast in 'DCs Legends of Tomorrow.'
Right around the same time she was cast as Hawkgirl, Ciara decided to start her own production company. Now, that she's wrapped up filming, she's picked up where she left off and is currently writing a musical titled Anything But Love with co-writers, Arianna Taxman and Arielle O'Keefe.
In a March 2017 interview with Entertainment Weekly, she said, "I'm really excited to be writing, I'm really exciting to be producing and directing. I'm wearing a lot of hats right now. I love being challenged, and I love learning new things. I'm learning a completely different side of my craft, which is really, really a wonderful experience."
She has a diverse ethnicity.
Ciara reported in a 2016 interview with Sassy Mama in LA that she is Native American and Indian, but she always tells people that she is "black, white, Indian, and Indian." In a 2015 Twitter exchange with a fan, she simply said that she was "white." In yet another article and interview, her mother was identified as being Hispanic. So, long story short, she is proudly multi-racial and likes to her star status as a "platform to really (get people) to start talking about multi-racial and multi-ethnic people."
She appears to be single.
When it comes to her personal life, Ciara tends to be pretty quiet. Though there had been media speculation that she was dating one of two co-stars, Casper Crump or Falk Hentschel, who are equally as private about their dating life, this doesn't appear to be true. Based on her social media presence, it looks like she is single.
Save