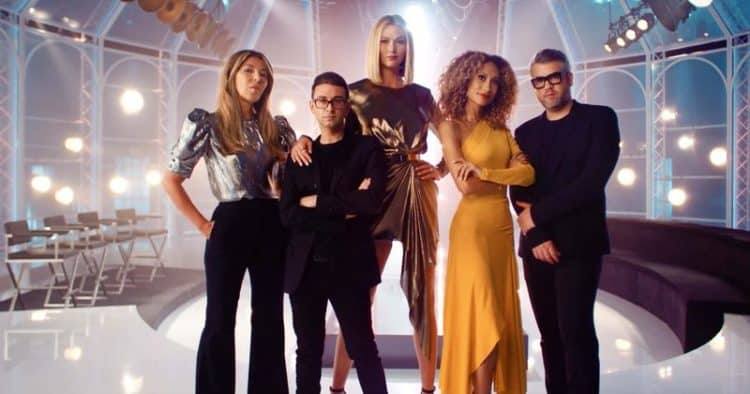 Project Runway has captured the world's attention, and the winning designers have been seen on the world's stages for seventeen phenomenal seasons now. It's time for another new round of outstanding design hopefuls to take their shot at winning $250,000 cash, and more in prizes. That's worth the risk, but for these designers, the walk of fame is only a few steps from walking away empty-handed. It's going to take quick thinking and genuinely next level sewing and design skills to pull off this season's winning looks. We hope you're ready to meet the designers on Project Runway Season 18 because they're ready to show the world they've got what it takes to take the runway by storm.
Brittany Allen from Austin, TX
This twenty-nine-year-old designer who has her own online shop is not messing around when it comes to her designs. Brittany is a perfectionist. She works hard to empower women in her business and create stunning clothing for today's women. Allen believes that being a powerful woman does not include making wardrobe sacrifices, and that modern ladies need fun and fearless apparel to go with their attitudes.
Asma Bibi from Atlanta, GA
Asma is a designer of 'modest wear.' She doesn't think a woman needs to show off all her skin to look amazing in the right clothing. Her brand Hijabi Pop was created with the singular goal of providing trendy, but modest outfits for millennial Muslim women. Clothing like her's is in short supply, and this thirty-year-old designer is happy to change that. Asma knows that you don't need to conform to a California norm to look fashionably fantastic.
Chelsey Carter from Chicago, IL
You may have seen Chelsey Carter's designs already on SZA and Chance the Rapper. As one of three designers from Chi-town, you might think she'd be worried about standing out, but not Chelsea. She has always loved fashion and worked to become part of the industry. Win or lose; she already has Dojo Studios to keep her busy designing for the stars.
Jenn Charkow from Seattle, WA
Owner of Stone Crow eco-friendly fashions Jenn Charkow didn't start her own business until she was laid off in 2010. Her goal is to change the conversation about what eco-friendly fashion means. Far from the rough image it has, Jenn's designs are gorgeous, a little dark, and definitely more modern than you'd expect if your idea of 'eco' hasn't gotten an upgrade since the 70s.
Victoria Cocieru from Moldova
From the time she was very young, Victoria had a dream and a talent for fashion. For her, there's never been another path, and founding Kheops was just another step along the way. She has hosted fashion events, opened her store, and moved halfway across the world to pursue her dreams. Her style incorporates bold geometrics and a will to succeed that is second to none.
Marquise Foster from Brooklyn, NY
Formerly of Oakland and New Orleans, this self-taught dynamo moved to New York in 2009 to pursue his fashion dreams. Marquise knows that it's not where or how you get your education, but how you use what you know that matters. His incredibly well-rounded fashion lines that range from men's and women's ready-to-wear to formals and Avante guard shows that this is one man who knows what he wants and how to get there.
Alan Gonzalez from Houston, TX
Alan's family immigrated from Mexico when he was young, and by the time he was in high school, he was already designing clothing, like his best friend's prom dress. In addition to his work as a fashion designer, Alan is passionate about his faith and works as a youth minister. His mother's strength inspires his line Alantude. Alan's signature style is clean lines and pops of color. I
Sergio Guadarrama from New York, NY
Half of Celestino Couture, Sergio, along with his partner Kade Johnson is creating eco-friendly couture clothing that is both beautiful and very fashion-forward. Their ethereal designs are flowing and lovely. Sergio is all about the innovative details and client experiences. He works to make fashion that fits the times and the unique client.
Dayoung Kim from Korea
Dayoung Kim has been all over the world to learn her trade. From schooling in India to internships in Italy, she has always focused her energy on her stunning sculptural fashion designs. Kim works on pieces that are both timeless and nuanced. The lovely thirty-seven-year-old designer brings a wealth of talent and experience with her to Project Runway.
ShaVi Lewis from Newark, NJ
For SahVi Lewis, art is just a part of his life. His father is a musician, and his mother has theatrical training. Doubtless, growing up in such a nurturing and creative family helped him develop his artistic talent. At thirty-three, he's already designed for the red carpet and a menswear line, which is no surprise since he figured out he wanted to make clothing at the age of seven.
Geoffrey Mac from Brooklyn, NY
From costumes that are quirky to truly luxurious couture pieces, Geoffrey Mac draws inspiration where he finds it. He sees the beauty in his military family background, and color in the rave scene of the '90s, and somehow he manages to bring all the various things that interest him into a cohesive and extraordinary fashion line of his own. He made over twenty garments in four days once for Lady Gaga's dancers, so we know he can handle the deadlines that Project Runway likes to throw at contestants.
Delvin McCray from Chicago, IL
As one of ten children in a fairly strict family, Delvin used his art as a form of self-expression. He doesn't like to design trendy clothing and uses his darkly beautiful, Elizabethan inspired clothes to make fashion for people who, like himself, don't want their style to be fleeting. McCray's stong pattern making skills and love of manga and the Avant guard show in his work.
Tyler Neasloney from Jersey City, NJ
Wyoming isn't the most fashionable place to grow up, and Tyler started making clothing as more of a hobby than a life long passion. However, after moving to New York, things started to get more serious, and he realized he had a real knack for the fabric arts. Tyler designs for himself and many well-known drag queens when he's not at his day job serving the homeless LGBTQIA youth at the Ali Forney Center.
Veronica Sheaffer from Chicago, IL
Inspired by glam and the classic fashion of old movie starlets, Veronica has an eye for the elegant. She brings her love of the timeless and skill for draping fabric into the new century by marrying the two. Veronica's romantic style is all about laces and flowing details. It should be no surprise that this lovely lady designs wedding gowns in addition to her more ready-to-wear fashions.
Melanie Trygg from Orcas Island, WA
This minimalist designer and owner of KLÄD creates statement pieces inspired by her upbringing in an affluent community and her sensibility from growing up in a home where they didn't have the means to keep up with the Johnsons. Her resourcefulness will undoubtedly help her with challenges from Project Runway. Moreover, her sense of the architectural designs combined with her skill for natural draping should make for a dynamic competition. Anyone who sees her Scandanavian inspiration can tell instantly that she has a real eye for the beauty of that culture.
Nancy Volpe-Beringer from Philadelphia, PA
Known for her award-winning designs that use creative and unexpected textile manipulation, Nancy Volpe-Beringer is both a designer and the name of a fashion line. This sixty-four-year-old designer can really wow a crowd, and she knows her way around a red carpet as well as any and better than many. She is officially the oldest competitor to ever participate in the show, but don't let that fool you. Nancy knows her business, and she brings a ton of awards and accolades to the table along with her instinct, talent, and training.
Final Thoughts
Sixteen designers enter the competition, but only one will win the ultimate prize. Who will it be? Don't ask us. This is one of the most incredibly talented lineups we've ever seen on the show, and we love the fierce and fashionable competition more than ever this season. With a little help from the incomparable Christian Siriano and a lot of hard Make-It-Work, someone will land on top. However, it's pretty clear the whole group is made up of winners already. There's not a single designer on the show we wouldn't buy from in a heartbeat. Who's your favorite so far this season, and who do you think needs to go already? Let us know in the comment section.
Tell us what's wrong with this post? How could we improve it? :)
Let us improve this post!